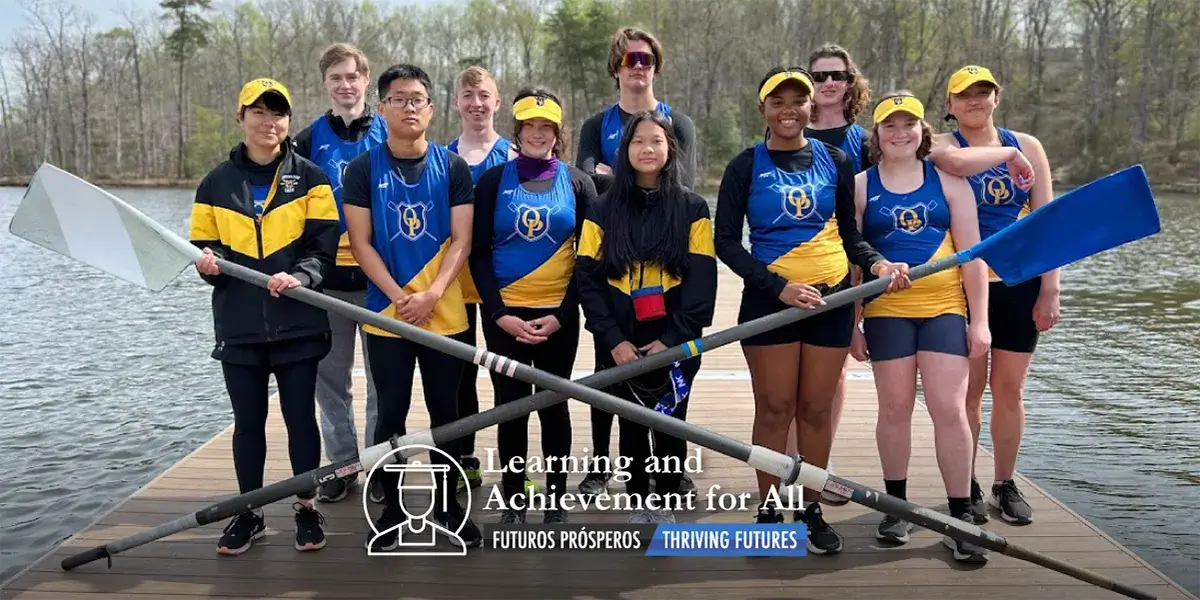 When Annie Berger was completing eighth grade in spring 2022, she was looking forward to starting her freshman year at Osbourn Park High School. Berger, who is passionate about the sport of crew, knew Osbourn Park was without a crew program, and set out to establish a team and bring her love of the sport to her fellow students.
Benjamin Fields, a business education teacher at Saunders Middle School and experienced rower, learned about Berger's predicament from Keith Laine, director of student activities at Osbourn Park High. When Fields agreed to serve as the coach for the school's first crew team, Berger, with help from Laine and the Prince William Crew Association (PWCA), set out to recruit fellow students to become her teammates.
Over 15 students signed on, including Winnie Branco, a senior, who saw the sport as a structured way to get outside and exercise regularly. Branco explained, "I enjoy being out on the water in the sun and fresh air. I love seeing wildlife like birds, turtles, and fish on the water."
For coach Fields, preparing the team for the water took some work. "At our first practice, most of the team had no experience. We were all starting at step one. We spent the first two weeks of practice in the weight room on the ergometers (rowing machines), learning the basics of the stroke and preparing to get on the water," he explained.
This past March was the team's first experience in their boats on the water. Less than a month later, the team competed in their first regatta. "We had a solid showing. We raced two boats, a Men's Novice 4+ and a Women's Novice 4+. Both boats finished in third place in their respective events," Fields said.
Berger could not be prouder of the success achieved by the rookie team. "I am so thrilled that my hard work has paid off. I'm glad I can share how amazing crew is with my peers. I think rowing opens up many opportunities for our school and its students."
Sean White, a junior, is new to the water sport. "Crew is a lot of hard work, but it's fun and has taught teamwork and leadership skills. My goal is to improve my balance and strength on the boat," he said. 
Crew programs are also offered at Battlefield, C.D. Hylton, Charles J. Colgan Sr.,Forest Park, Freedom, Gar-Field, Potomac, and Woodbridge High Schools.
E.W. Nowland III, the coordinator for PWCS' student activities and athletics, explained, "We are always looking at ways to connect students to their school and support as many individual student interests as possible."