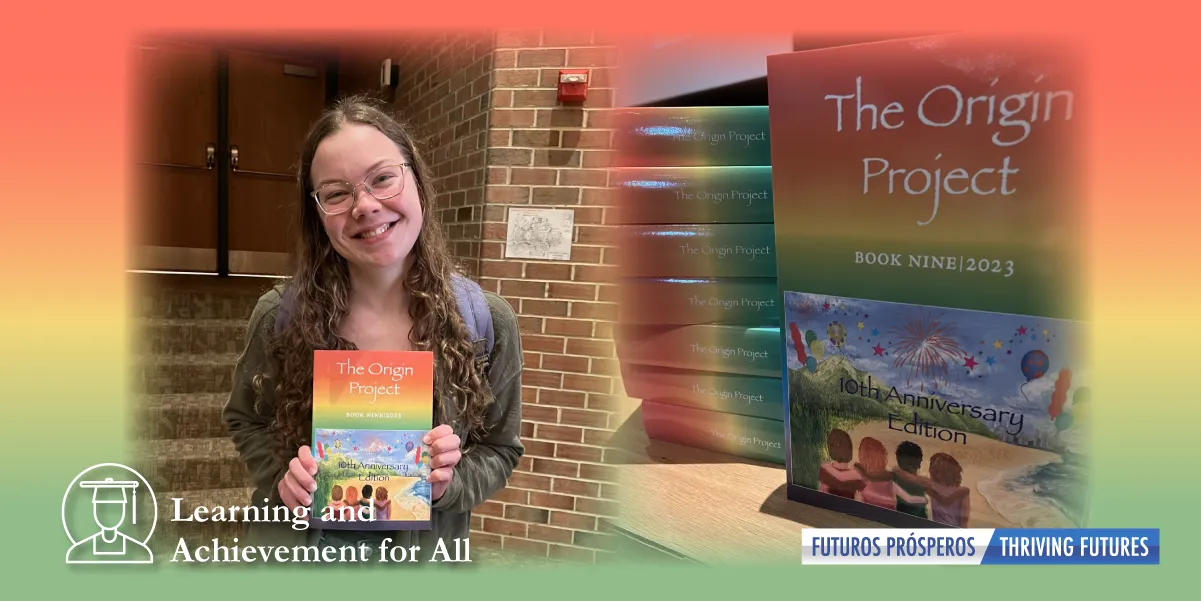 In a darkened auditorium where a captivated audience of students, parents, teachers, and staff stirred, an unassuming podium emblazoned by a single spotlight, disarmingly prologued the revelations tiny voices will make about their origins.
Woodbridge High School recently hosted the 10th anniversary of The Origin Project by celebrating the unveiling of Book Nine Anthology.
The Origin Project (TOP), a creative writing program, co-founded by author Adriana Trigiani and Executive Director Nancy Bolmeier Fisher, seeks to inspire students to find their voices through the craft of writing about their origins. The initiative began in exploring Appalachian origins but quickly expanded to give every student an opportunity to connect with their expansive identity, rich culture, and family story.
"[TOP] made me ask a critical question," commented TOP alumnus Anthony Marovelli,  "What exactly is my origin?"
"Although there is no singular experience for those of us in any sort of diaspora, we all hoped to accurately describe our diverse origins," reflected Asra Shuaib, a TOP alumnus.
Through the project, students take ownership of their own writing and artistic expressions, and they find community as they share with others. Although some students may have this opportunity in English and creative writing courses, TOP puts more emphasis on students' own stories across the school community. The publication of the Book Nine Anthology is a kaleidoscopic mosaic of student voices, creativity, and empowerment.
"It's a fantastic opportunity!" exclaimed Michelle Garcia, Prince William County's Poet Laureate. "To still be in their formative years as writers and artists, and to already have [their work published] going into wherever they go… It's fantastic to watch and it is something I wish I had while I was [in PWCS]."
In 2018, Unity Reed High School participated for the first time in The Origin Project. Rhonda Carper, former assistant principal of Unity Reed High, invited Woodbridge High Principal Heather Abney to attend the celebration. Abney brought back a copy of an anthology for the now retired creative writing teacher, Cathy Hailey.
"I have always been interested in exploring my own origin, identity, family stories," Hailey recalled, "so I encouraged English and Creative Writing students to do so throughout my career."
Participating in TOP put that front and center in her classroom. Even after retirement, Hailey has continued to support Woodbridge High's work with TOP, collaborating with school faculty Rishi Agrawal, Roxanne French, and Trisha Genest, on a virtual celebration for students and alumni in 2021, and a reading/art sharing for students, alumni, and parents in 2022.
Unity Reed and Woodbridge are not the only schools in PWCS to join TOP. The growth in popularity includes: Brentsville District and Gainesville High Schools, The Nokesville School, and Saunders Middle School.
The publication of Book Nine Anthology is also the first-time teachers and librarians were included in the writing. Trigiani professed, "Teachers have a mission, a mission to teach, and it is a thrill to hear your stories alongside your students."
Principal Abney declared, "I can't wait for my opportunity to contribute for Book Ten!"