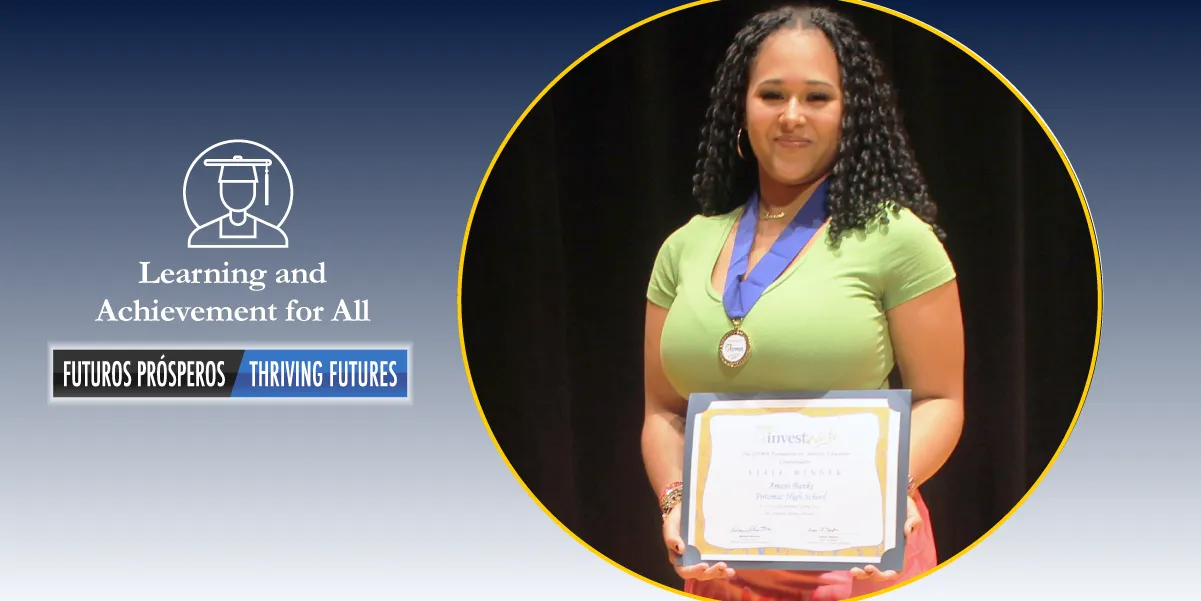 Amani Banks, a junior at Potomac High School, is the high school level winner of the 2023 InvestWrite! Competition for the state of Virginia. Banks authored her essay on the teamwork and trust it takes to create a successful portfolio, and her personal journey to becoming a leader in the group.
Members of the team propose their ideas, discuss their reasoning for their choices, and mutually conclude on a plan. Banks notes the honesty that is required to maintain a quality portfolio, and the ability to keep each other in check. Admittedly an introvert, Amani highlights her prior aversion to speaking her mind, but emphasizes that taking part in related school activities, like the Stock Market Game, encouraged her to step out of her comfort zone and strengthen both her financial and life skills.
As well as being awarded first place for her essay, Amani received a certificate, a gift card, and a medal for her excellent work.
InvestWrite! is an innovative national writing competition, open to students in grades 4-12. Essays are written after students complete the Stock Market Game; a challenge that helps students better understand the world of business and finance, the Stock Market Game is an exercise in personal finance through an online simulation of the global capital market. Proven to have several positive educational impacts, the Stock Market Game improves attendance, elevates classroom engagement, and creates a foundation for good financial behavior.
Over 2,000 financial industry professionals read and score the essays. Each essay is judged by four individual volunteers then top-ranking essays are scored by a special panel of volunteers. Teachers and students have a chance to win gift certificates, laptop computers, and other awards by participating in the competition.
Learn more about the Stock Market Game