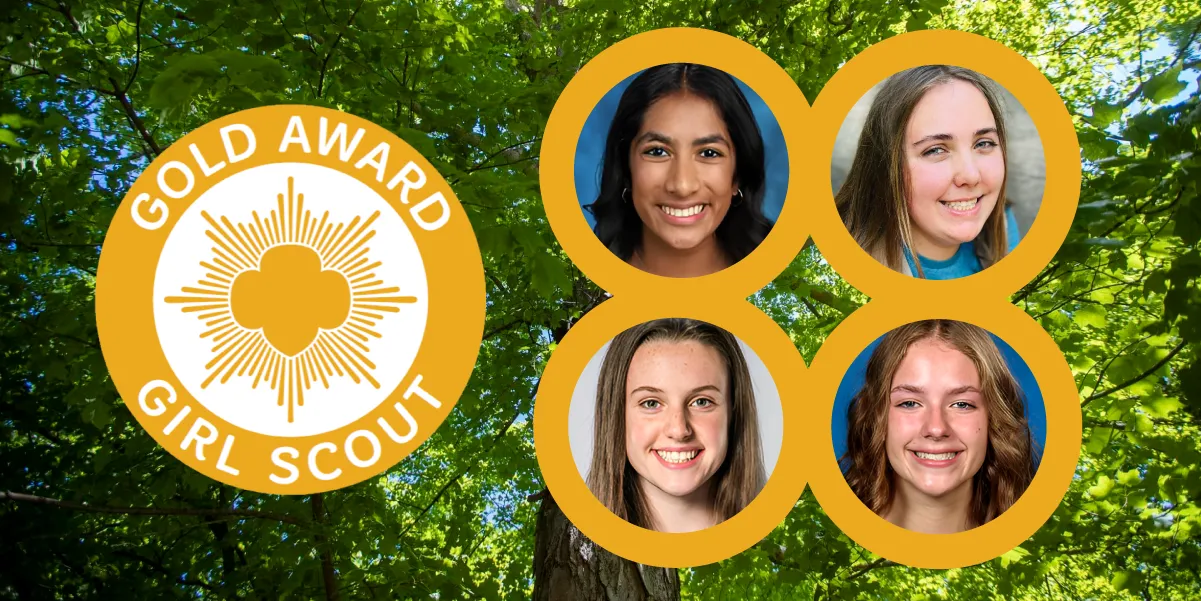 The Prince William County Girl Scouts program awarded four PWCS 2023 graduates with the Gold Award, the highest honor bestowed by the Girl Scouts organization. This prestigious award is earned by a select group of Girl Scouts who have demonstrated a high commitment to improving their communities and advocating for lasting change.
Congratulations to the following PWCS graduates on earning the Gold Star for their projects:
Kaci Atkins, C.D. Hylton High School, project title: "Rosa Parks Outdoor Learning Garden."

Atkins from Girl Scout Service Unit 80-5 partnered with Rosa Parks Elementary School to build a learning garden featuring eight raised garden beds, one for each grade level including Pre-K classrooms. The plants, flowers, and vegetables planted in each bed reflect concepts from the Virginia Standards of Learning.

Natalie Korzuch, Charles J. Colgan Sr. High School, project title: "Opening Eyes to Animal Safety: Pets and Wildlife."

Korzuch from Girl Scout Service Unit 80-9 partnered with a local animal non-profit to create brochures, a patch program, school curriculum, and guided workshop on animal safety. She also donated a microchip reader to the Animal Services Center. Korzuch is also only one of 110 Gold Award recipients in the United States to receive a $10,000 scholarship from the Girl Scouts organization. 

Kathryn Layton, Charles J. Colgan Sr. High School, project title: "Women's Wikipedia Edit-a-Thon."

Layton from Girl Scout Service Unit 80-5 held a Wikipedia Edit-a-Thon so that the historical contributions of women and underrepresented minorities to the United States can be easily referenced on Wikipedia.

Niveda Mahesh, Woodbridge High School, project title: "Reducing Food Waste in Local McDonald's."

Mahesh from Girl Scout Service Unit 80-6 partnered her local McDonald's restaurant in collaboration with Food Donation Connection, an organization that facilitates the donation of surplus food to people in need and reduces food waste. Through her project effort, Mahesh organized a donation from McDonald's to a homeless shelter.
Tina Atkins, Kaci's mother proudly shared, "Kaci is one of two girls in Prince William County who earned both her Girl Scout Gold Award as well as her Eagle Scout award with Scouts BSA [Boy Scouts of America] all during her senior year."
Kaci's advice for other girls who are considering pursuing the Girl Scout Girl Award or Eagle Scout Award is, "[T]o keep pushing through, and always believe in yourself. During your project you are bound to face obstacles and challenges, but you can always find a way to overcome them."
To earn the Gold Award, candidates must find an issue in their community or in the world that they care about and learn all they can about it through extensive research. Afterwards, they must identify and gather a team of adults in their community who can help them and designate a plan of action. Candidates must submit a proposal for approval, lead their team, carry out their plan, reflect on the outcomes, share their story, and inspire others to action.
Gold Award projects require a commitment from the candidate of at least 80 hours. A project might be completed over the course of a summer—or in the span of a year or more.
Students in grades 9-12 who are a registered Girl Scout Senior or Ambassador are eligible to apply to become a Gold Award Girl Scout. To learn more about the Girl Scout program, visit their website.