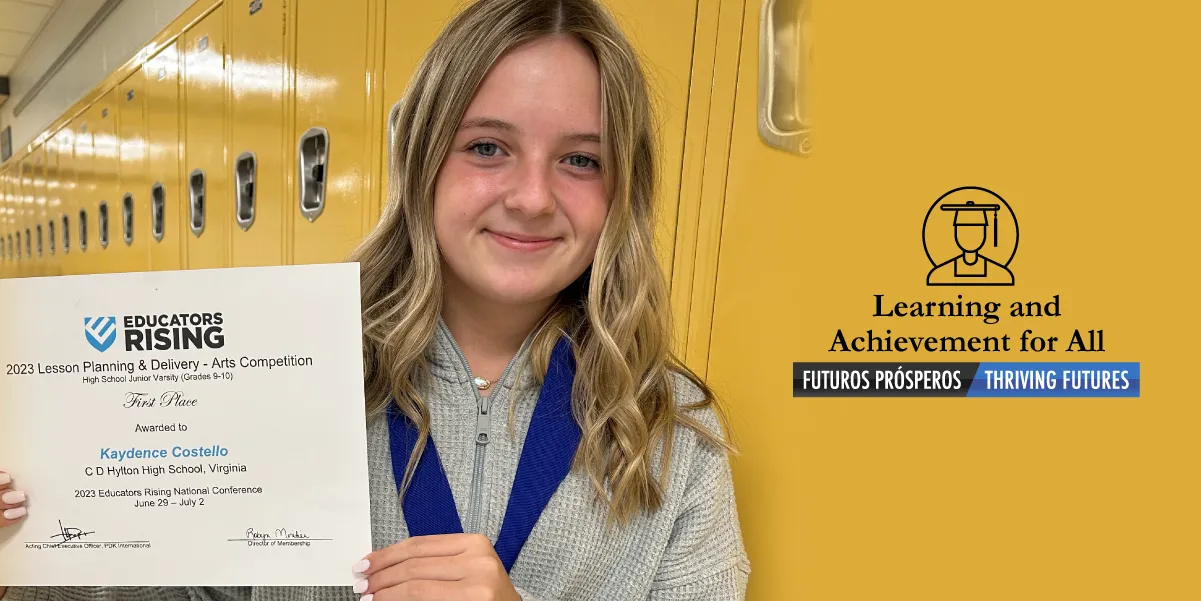 Kaydence Costello is a sophomore at C.D. Hylton High School and already passionate about a future career in education. "It's the only thing I can truly see myself doing," she shared about becoming a teacher.
Costello is a member of Educators Rising, a Career and Technical Education student organization that aligns with Teachers for Tomorrow, a program that helps students pursue a career in education.
Educators Rising hosts a national conference each year to convene their network of future educators and teacher leaders. The conference holds breakout sessions and competitive events designed to help students develop and showcase their teaching skills. These competitions are performance-based events in which aspiring educators demonstrate their knowledge, skills, and leadership in education.
Costello was one of five students from Hylton High who attended the 2022-23 conference in Orlando, FL and the first underclassman to represent PWCS at the national conference. She earned that privilege by placing first in the state event.      
Competing within the state category of 'Lesson Planning & Delivery-Arts,' Costello chose to create a lesson plan for a second-grade art class. She went to McAuliffe Elementary School and recorded herself teaching the class based on her lesson plan. She submitted the 10-minute video to the judges who asked her multiple questions about the lesson plan and her implementation of the plan. With her first-place victory in the state competition, she advanced to nationals.
The process for the national conference was similar to the state's. Costello returned to McAuliffe Elementary where she replicated the video recording process and lesson plan implementation with a different class. The judges reviewed the video and asked her to present her reflections from the lessons as part of their assessment.
At the awards ceremony, Costello, her fellow classmates, and Hylton's Education Rising sponsor, Katherine Jackson, did not know what to expect. The top 10 contestants in Costello's category were announced in no ranking order and she was among the 10. The top three were then announced. After not hearing her name called after third and second places were announced, she was sure she was in the lower of the top 10.
When they called Costello's name as the winner she froze, "I was shocked. Everyone at the table was just in awe because we didn't think it would happen." she said.
Jackson was the one person at the table not totally shocked. She shared, "I'm not surprised that she took the first place. She's a very hardworking student and she thrived on that project."
Costello now has three more years to learn and compete before going to college and pursuing her dream of being a teacher, with hopes of coming back to PWCS.