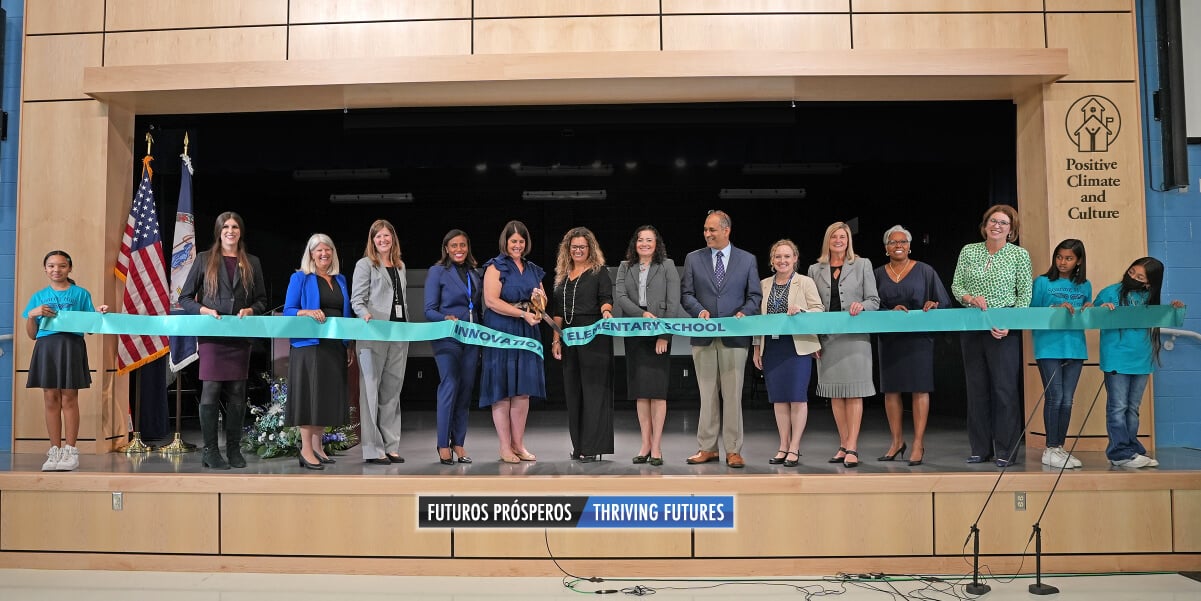 Students, teachers, staff, and community members recently celebrated the opening of the first three-story elementary school in Prince William County Public Schools during a ribbon-cutting ceremony. Innovation Elementary School, the beautiful, state-of-the-art school designed by Moseley architects, is in the Brentsville District, serving students in Pre-K through fifth grade.
Principal Kelle Stroud hosted a reception in the school's library, which is located on the second floor of the school.
"Opening Innovation Elementary in the Manassas community means new beginnings for the families that we serve," Stroud shared. "Celebrating our opening sets the stage for an exciting year ahead while we work together to create a school community that is committed to the success of all students."
Stroud has high expectations for the future, stating, "My goals for Innovation are to ensure that we provide excellent instruction so that our students leave elementary school with the skills they need to thrive in middle school and high school. We are the foundation of their education and we set the stage for excellence. It is my hope that all of our Innovation Falcons come back to see us in the years to come to share all of the wonderful things they are doing with their lives."
During the ceremony, speakers shared their praise for Stroud and spoke of their excitement for students and staff at the new school.
"Commitment two in our PWCS Vision 2025 Launching Thriving Futures Strategic Plan is establishing a positive climate and culture. There is no doubt that equitable access to a new state-of-the-art elementary school positively impacts the school's climate and culture. I had the opportunity to visit Innovation Elementary School on the first day of school, and the positive environment was clearly demonstrated," said Superintendent of Schools Dr. LaTanya D. McDade.
Unity Reed High School Chamber Voices Ensemble started the ceremony with the National Anthem under the direction of Preston Atkins, as well as an impactful Presentation of Colors by Unity Reed High's Air Force JROTC, under the direction of Lieutenant Colonel Darryl J. Robinson. Another student performance followed, with the Innovation music students reciting a poem, "Education," written by Innovation's very own music teacher, Leah Boyd.
After Stroud finished cutting the ribbon, she invited guests to join a tour of the school.
Innovation's school colors are navy blue, gray, and teal. Their school mascot is the Falcons.
View highlights from the Innovation Elementary Ribbon-Cutting Ceremony
Innovation Elementary School celebrates ribbon cutting