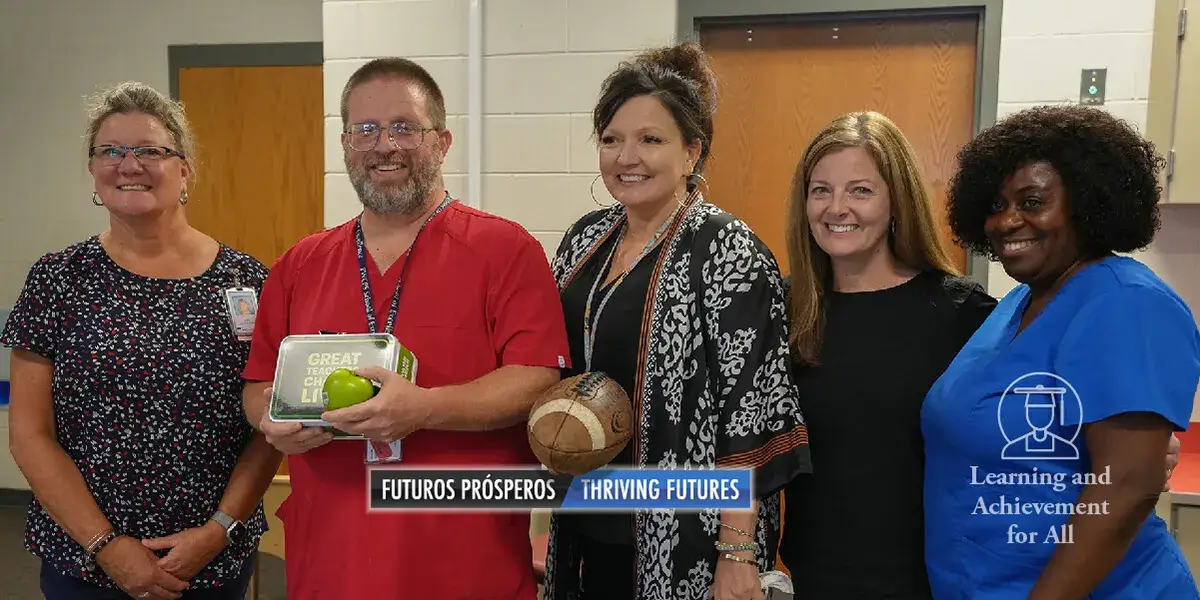 Ken Davis, teacher of students with special needs at Chris Yung Elementary School, barely noticed the small group of visitors as they entered his classroom. The delegation, led by Principal Stephanie Downey, were representatives from the Military Bowl Foundation and Wegman Foods.

Marc Goldman, senior director of partnerships for the Military Bowl Foundation, and the others were there to present Davis with the Extra Yard for Teachers award given to educators who go above and beyond for their students. Goldman handed Davis a small metal lunchbox containing a $1,000 donors-choice card to use in improving the educational experience for his students.

"Mr. Davis has a heart for serving others, approaching students and families with compassion, empathy, and professionalism. He cares deeply for the children in his classroom and creates engaging learning experiences for them each day. We are excited to congratulate and honor our colleague as he receives the Military Bowl Award. It is so well-deserved," said Stephanie Downey, Chris Yung Elementary principal

A handful of Chris Yung staff members nominated Davis for the award, detailing his dedicated efforts in providing academic excellence for his students. The program, organized by the College Football Playoff Foundation, the Military Bowl, and Wegmans, provides these grants to teachers who are veterans or from military families, as well as teachers who serve communities with significant military populations.

Davis served in the U.S. Navy from 1987 to 1989 when his military career ended due to an injury that required a year of rehabilitation. He has been teaching for 10 years, eight of those in Prince William County Public Schools.

"This is a severe multiple disabilities classroom. All of my children cannot talk, some cannot walk, and they all learn very differently than you and I. So, we teach them practical skills that they can use every day. I'm just trying to give back to my community," said Davis.

Last year, grants were awarded to 11 teachers from seven school divisions throughout the Mid-Atlantic region. Davis and other winners will be recognized at this year's Military Bowl on Wednesday, December 27 at Navy-Marine Corps Memorial Stadium in Annapolis, Maryland. The game matches teams from the Atlantic Coast and American Athletic Conferences and will be televised on ESPN at 2 p.m. ET.

Ken plans to use the funds to purchase electronic devices that will help the children communicate with him and his colleagues.