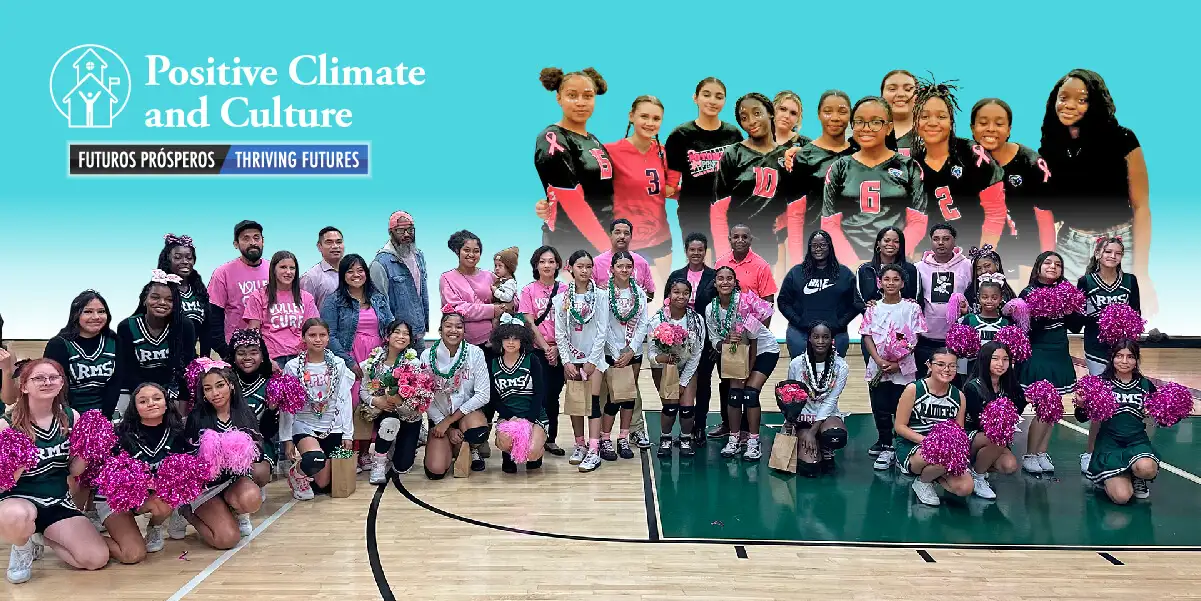 During the month of October, millions of people worldwide observe Breast Cancer Awareness Month. In Prince William County Public Schools, volleyball teams at Potomac High School and Rippon Middle School are working to raise awareness and money to help fight breast cancer. Both schools hold pink out volleyball games, where they deck their gyms out in pink and donate a portion of the proceeds to breast cancer research organizations.
Gabrielle Mack-Jenkins, head volleyball coach at Potomac High, has held the pink out volleyball games for the last six years. For Mack-Jenkins this is personal, her grandmother and aunt are both survivors.
"I thought that's a great way to honor my grandma and aunt who aren't able to be here, but I can honor them and their struggle and fight with this deadly disease," shared Mack-Jenkins.
During the Potomac varsity volleyball game, the team recognizes survivors and people currently fighting the disease in the crowd. Players have them stand and distribute roses and signed pink volleyballs.
"We've had tears, we've had people thanking us. We've had people thanking the players," said Mack-Jenkins.
Potomac senior, Kai Thomas, has played volleyball at the school since her freshmen year. She has a personal connection to the disease and looks forward to the pink out game.
"My grandma's best friend is a survivor. She comes every year to support, and her response is always so positive," Thomas said. "She loves how the gym's decorated, what our coach does for the survivors, the donations, everything about it. The energy is always really positive. We're playing to make sure the survivors know we're playing for them. We're pushing, fighting for them," she added.
Kenia Odum has a daughter who plays on Potomac's volleyball team. This is the second year Odum has worked concessions during the pink out game. She lost her mother to throat and neck cancer and has made it her mission to encourage others to get tested.
"My biggest thing is to make everyone self-aware of cancer. Regardless of if you think you have it or you don't, just get checked," said Odum. "I just want people to understand that it's better to check than to say you're scared. Everything is going to be scary and at the end of the day, you want to know."
Rippon Middle School held their pink out volleyball game during their last home game of the season. Morgan-Elaine Daniel, the Rippon Middle volleyball coach, has held the pink out volleyball game for the last three years.
During the games, Rippon's junior varsity and varsity teams honor their eighth grade players and raise awareness about breast cancer. The players recognized Rippon parent, Karen Danfa, who was diagnosed with breast cancer in 2021. Danfa has since undergone months of testing, chemotherapy, and a double mastectomy. October 2023 marks two years of remission for Danfa.
View more of the pink out volleyball game at Potomac High School.
Pink Out volleyball game at Potomac HS brings school community together for breast cancer awareness