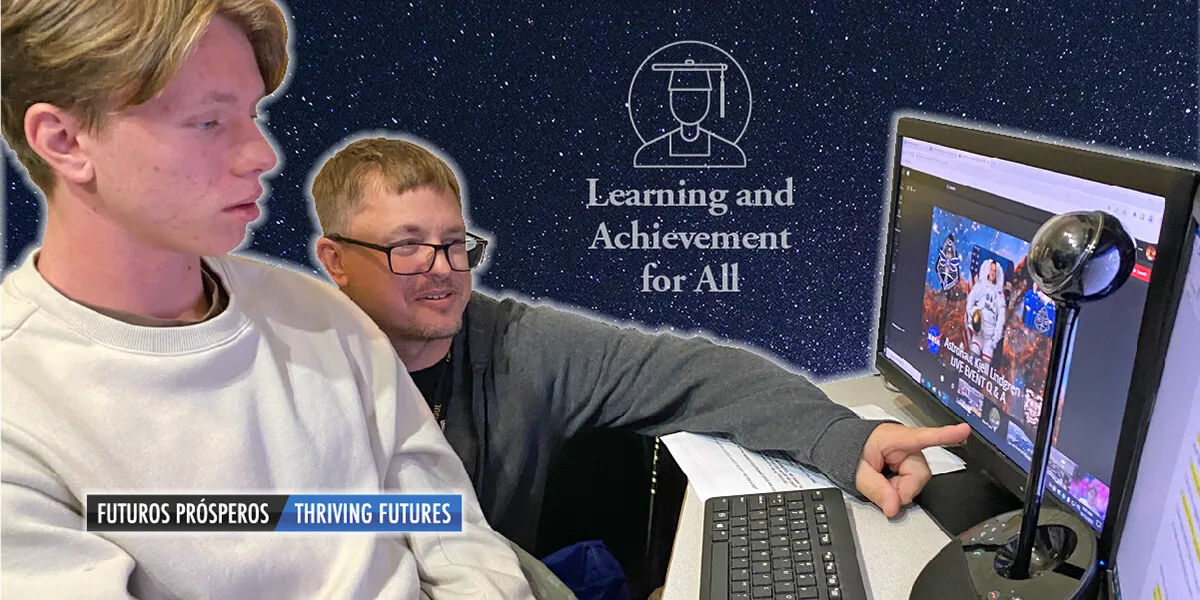 NASA astronaut, Dr. Kjell Lindgren, shared his story with over 350 Unity Reed High School students via videoconference from the Johnson Space Center in Texas. Lindgren awed the students with video footage from his space missions and encouraged them to take advantage of valuable programs at Unity Reed High like Robotics, Air Force JROTC, and International Baccalaureate.
"These are incredible opportunities and paths through which you can open doors to achieve your goals," said Lindgren.
Lindgren's journey to the stars began on April 12, 1981, when his second-grade teacher brought a television into his classroom to watch live-coverage of NASA's first space shuttle launch. The experience brought a profound realization upon him.
"Living and working in space wasn't just a fantasy, a dream, but something that people actually did. And so, from there on, I really set out to figure out how do I do this?" explained Lindgren.
A successful high school and Air Force Academy graduate, Lindgren saw a career in the United States Air Force as his ticket to space. Then a routine medical checkup yielded an asthma diagnosis, and subsequent medical discharge from the military.
"That represented a complete obliteration of my dreams. In my mind, there was no line that connects being medically kicked out of the Air Force to someday becoming an astronaut," admitted Lindgren.
Lindgren's detour to becoming an astronaut included a medical degree in aerospace medicine and eventually being cleared of his asthma diagnosis. Through it all, he credits his success to three steps which he detailed for the students.
"Number one is setting a goal," began Lindgren. "Share that goal with your teachers, your family, with your friends, because they want to see you succeed. They will invest in you and help you get where you want to go."
"Hard work opens doors," continued Lindgren with steps two and three. "Be kind to your classmates, to your teachers, to your teammates. Everybody is encountering their own challenges at different times."
Carlos, a Unity Reed sophomore and future NASA astronomer, said "I felt so bad for him when he was discharged from the Air Force. But this presentation was very interesting and inspiring."
Unity Reed junior and Air Force JROTC Cadet Master Sgt. Benjamin Jensen agreed. "I think it's a message that a lot of people our age can take home because we're all struggling. I especially liked his reminder about how each person is going through their individual journey and to just be kind to each other."
The video conference was organized by Chris Lem, an English teacher at Unity Reed, and emceed by Tyler Hruska, a junior at the school. Lem, who is also Lindgren's friend from high school, was certain the event would be a success. 
"I knew [Lindgren] would be able to inspire Unity Reed students...that someone like them could be a Virginia high school student, and with determination, goal setting, and study, reach beyond this world." said Lem.