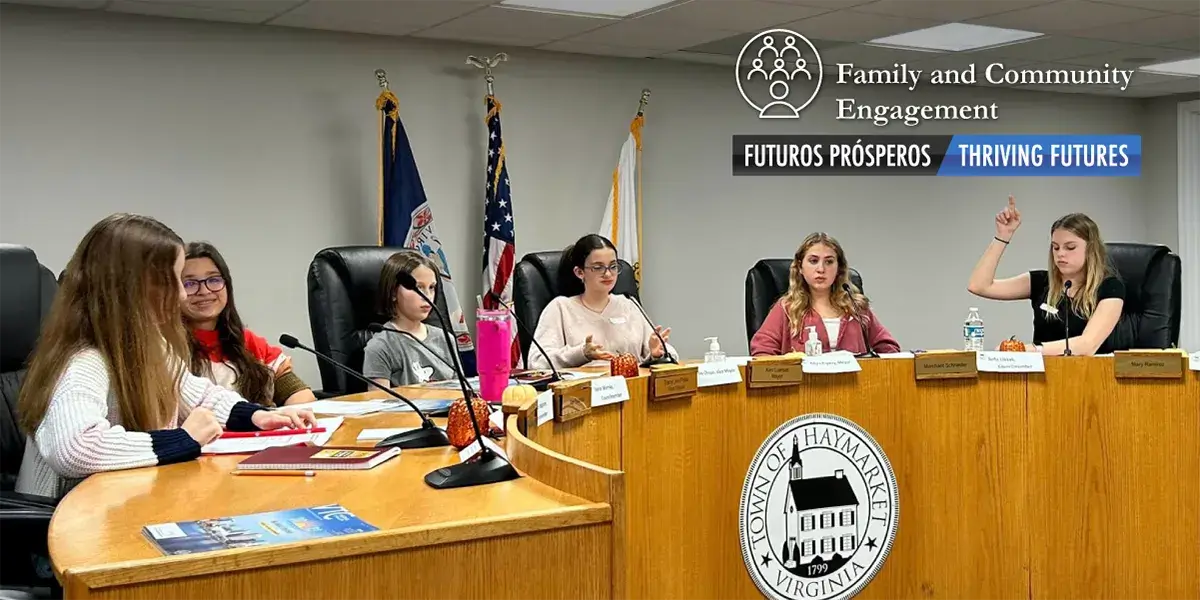 The advertisement inviting students to apply read, "Have you ever wanted to improve something locally? To make change, it's helpful to understand how your local government works."
In a unique new program created by the Town of Haymarket, 13 Prince William County Public Schools (PWCS) middle school students participated in the Haymarket Youth in Government Program, giving them an up-close learning experience in government operations that exposed them to meaningful career opportunities and workplace skills.
Among the participants was Rhea Bhat, eighth grader at Ronald Wilson Reagan Middle School, who said she believes in being the change she wishes to see in the world. She feels she learned a great deal about that by participating in this program. Most importantly, she enjoyed participating in the survey design project and learning how to responsibly incorporate all the feedback and ideas from the community.
"Voting and seeking consensus with budget control will allow me to take charge and collaborate with my peers in school and outside of school in my day-to-day life," said Rhea. "This program has taught me people and leadership skills in how a government works for the betterment of our communities, along with real life costs of how much recreational equipment costs. I was able to learn the various roles within the Haymarket government that I can now use to make our community a better place for all residents."
The following PWCS middle school students participated in the Haymarket Youth in Government Program:
Bull Run Middle School
Addison Minor, eighth grade
Gainesville Middle School
Audrey Brewster, eighth grade
Adara Kryway, eighth grade
Anushka Misra, seventh grade
Ronald Wilson Reagan Middle School:
Rhea Bhat, eighth grade
Ivy Chapin, sixth grade
Emmajin Choi, sixth grade
Samir Haq, eighth grade
Sofia Libaak, seventh grade
Charlotte Maguire, sixth grade
Ria Patel, sixth grade
Braylan Stewart, seventh grade
Taylor Warnke, eighth grade
Participants had the chance to work alongside town officials and truly be part of a governing body that impacts decisions for their community. With their peers and members of the town's staff and council members, the group's assignment was to review the results of a survey for Haymarket residents on the best use of park space for their community. Students took on assigned roles in the governing body, such as mayor, police chief, or town treasurer. They researched proposed options, built a case for their choice, and experienced the process of work sessions and council meetings, even sitting on the dais to discuss and present. The program culminated with students joining government officials to walk in the Haymarket Day Parade.
"The participants in our program blew me away with their ability to think critically, voice their perspectives, and debate respectfully," said Town of Haymarket Councilwoman Mary Ramirez. "It was an incredible experience, getting to share our town government with Haymarket's community youth. Both the participants and our community gain so much from educated and confident young people."
Based on the success of this year, Haymarket officials hope to grow the program by opening additional age-appropriate opportunities in future.
"When our participants were given the floor to hold their own work session and council meetings, it was apparent they understood and respected the positions they held," said Ramirez. "They were ready to make an impact, and I hope they continue through life with that same attitude. It was truly an honor to watch."