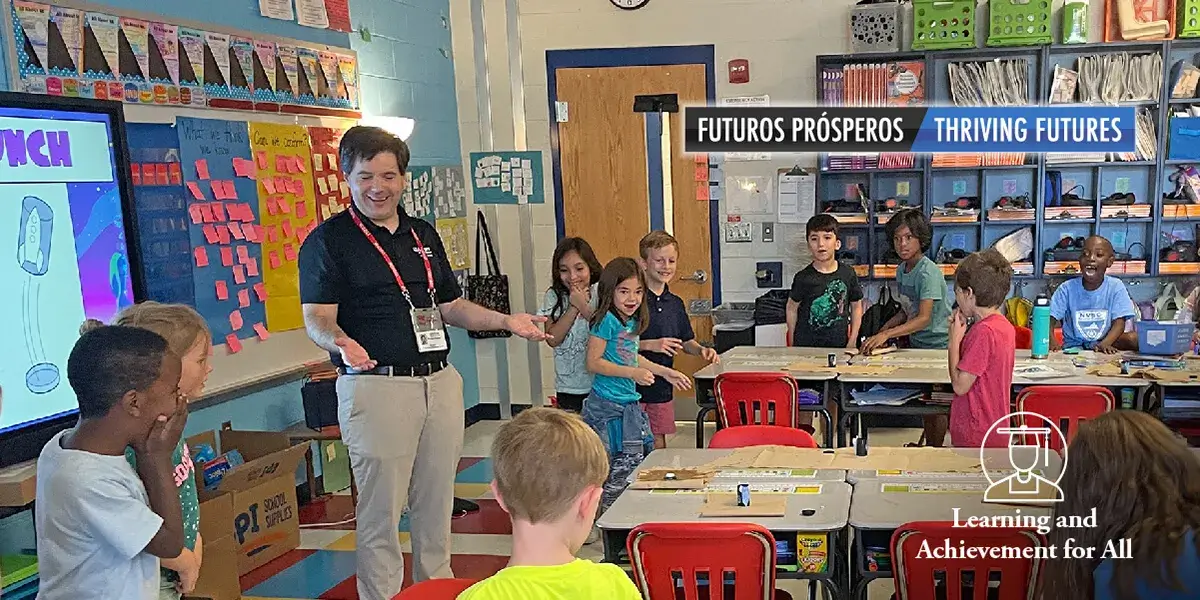 Shouts and giggles could be heard down the hallway at T. Clay Wood Elementary School as students in Deanna Cohen's second grade class watched their makeshift rockets launch into the air. These rockets were part of a science experiment delivered by Thomas Dawson, an aerospace engineer from Aurora Flight Sciences, and T. Clay Wood Elementary parent. Students worked in pairs and filled a film canister halfway with water. Then, one student added Alka-Seltzer® tablets to the canister and the other student quickly covered it with the lid and turned it upside down on the desk. Students then stepped back looking expectantly at their table to witness what happened next. A loud pop and the film canister shot up into the air, providing a classroom simulation of what happens when a space rocket launches.
Several second-grade students in Cohen's class excitedly shared in their own words their experience, "What I learned is that when water and Alka-Seltzer® mix together, it explodes.  I loved it!" exclaimed David Keatts.
Classmate Quinn Keough shared, "It was a great learning experience and really fun."
Caden Bergeron added, "I thought it was great because I liked how the rockets went up into the air."
Down the hallway in Ryan Sanfilippo's fourth grade classroom, guest speaker Ed Maher, program manager for BAE Systems, Inc. in Manassas, and parent at T. Clay Wood, spoke to students about his career in space computer engineering. Students were enthralled by his experience designing computers that can be used in space, peppering him with several questions, such as how much does it cost to build, how long does it take, why does it look so different from an actual computer?
"It can cost $1 million to build one computer for space and it can take about two years or more to build. Any computer that we build has to be durable and last a long time in space. Space computers look different because they have no excess frills; they must be lightweight. This type of computer will have a heat pipe that distributes heat to other parts since it does not have a fan," answered Maher.
Another student asked Maher why he wanted to specifically do this job, Maher shared, "I went to school for computer engineering; designing for space just feels special and I'm building things that matter."
At the end of the day, in Lara Warren's fifth grade class, Jeremy Kinney, a guest speaker from the Air and Space Museum, and parent at T. Clay Wood, shared with students' information about the museum and what it offers. This included a brief history of the museum, information on the artifacts on display, and the "Destination Moon" exhibit.
Adam Dove, drama teacher, coordinated and promoted the schoolwide observance of Space Week at T. Clay Wood. Throughout the week, teachers were encouraged to incorporate space into their lessons. When asked why it is important for students to know and understand space and how activities like this help to reinforce the importance of space to students, Dove stated, "The research being conducted in space is astounding and these students could be some of the first that are able to voyage beyond the moon. Starting to develop an interest at a young age could spark a curiosity and love for space in students that leads to new desires for future research. Plus, they LOVE learning about space!"