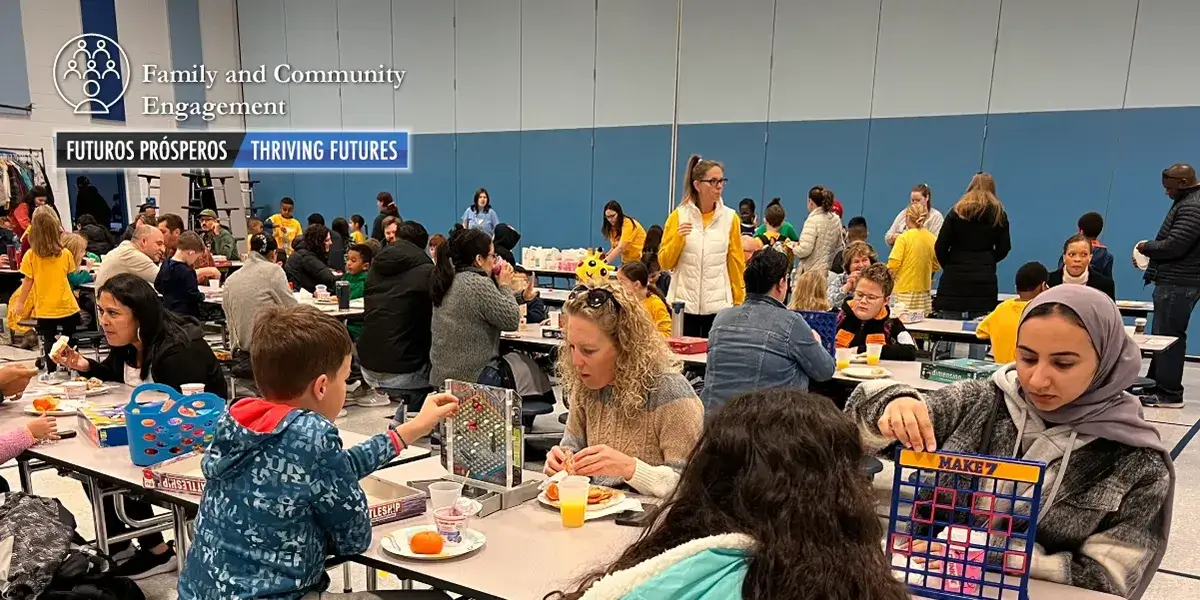 Across from croissants and Ker-Plunk, between muffins and Battleship, and around clementines and Yeti in my Spaghetti, parents and students smiled, laughed, and played on an early morning before the start of school.
Westridge Elementary School hosted one of five special House breakfasts, highlighting the initiative and leadership of its students. Westridge Elementary is actively engaged in a house system, a concept adopted by many schools in PWCS, where students are sorted into houses and compete for points by displaying successful academic, social, and leadership skills. The breakfast was a remarkable example of student-led planning and execution.
"They have done everything from planning and marketing to the activities," said Sara Case, second grade teacher. "We're just really proud of them!"
The breakfast was planned entirely by the house leaders, who not only organized and marketed the event but also managed the planning, including preparing a shopping list and securing funding from the Parent Teacher Association (PTA). Students were at the forefront of this initiative, handling every aspect from planning to execution. Their efforts included designing and distributing flyers to invite the community, students, and their families. The leaders regularly update the PTA on their activities and responsibilities, demonstrating a high level of accountability and involvement.
Mrs. Beard, a parent, expressed her excitement about spending quality time with her son, Parker, at the event, "I think it is awesome to be able to hang out with my son, Parker. I have been looking forward to it."
Parker, a student at Westridge, shared his enthusiasm for being an integral part of the team and the school community, "I agree with, Mom! I am part of the team, and it means a lot. I get to have fun and I'm a part of the school."
An impressive turnout of 120 attendees was recorded, where house leaders welcomed guests and introduced them to the meaning of their respective houses. The event also included a presentation on the meaning and values of the Quantum house, the hosts for this specific breakfast event, along with the school chant, "Five houses, one family," reinforcing the sense of unity within the school.
"The event is excellent. It's a way of getting all of us together," commented Mr. Tizazu, a recent addition to the community. He praised the event for its role in fostering a sense of belonging and showcasing the school's welcoming nature. "It's perfect for us since we moved here four months ago. It is a way for us to see community, how friendly everyone is, and how they are attending to our kids."
Fifth graders Oliver and Blake played key roles as house leaders. Oliver highlighted the inclusivity of the event, noting that it was not just for students but for entire families to enjoy themselves together. He also mentioned the addition of board games to the event, enhancing the fun aspect of the breakfast. Blake shared his experience of presenting in front of a large audience, acknowledging initial nerves but also the excitement of the experience.
This event at Westridge stands as a testament to the school's commitment to community building and student empowerment, fostering leadership and collaborative skills among its students. Westridge is committed to family and community engagement.