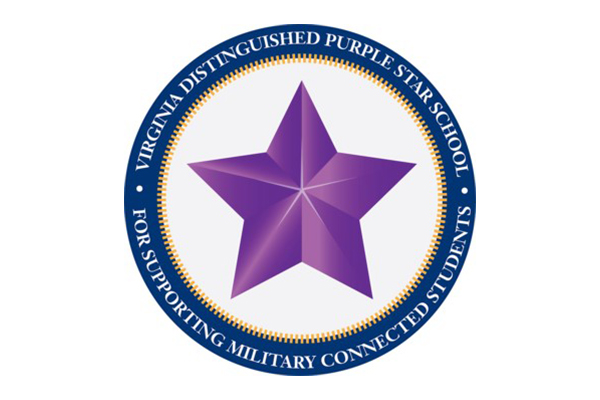 Updated January 26, 2021: Congratulations to the staff and students at Bristow Run Elementary School. The Virginia Council on the Interstate Compact for Educational Opportunity of Military Children approved Bristow Run Elementary School as a Purple Star Designation awarded school at its December 2020 meeting, making it the 21st PWCS Purple Star school.
The Virginia Department of Education (VDOE) and the Virginia Council on the Interstate Compact on the Educational Opportunity for Military Children (Virginia Council) have named seven PWCS schools as 2020-21 Distinguished Purple Star Schools. The Purple Star designation is awarded to schools based on their commitment to meeting the needs of military-connected students and their families. The seven schools receiving this designation are Gravely, Mary Williams, Minnieville, Mountain View, Old Bridge, and Rockledge Elementary Schools; and C.D. Hylton High School. These seven schools join the 13 other schools in PWCS that have earned the Purple Star designation. View list of Purple Star schools.

Counselors and other staff at all 20 schools work closely with military families to provide relevant resources to ease the transition to the new school and community. Some examples of the resources provided are a student-led transition program that provides peer support for newly enrolled military-connected students and providing support to the students and their families when their service member is deployed.

In addition, the School Division recognizes April as the "Month of the Military Child," encouraging all schools and offices to show appreciation with activities to honor our students from military families. For further information, please view the military connected student support webpage.