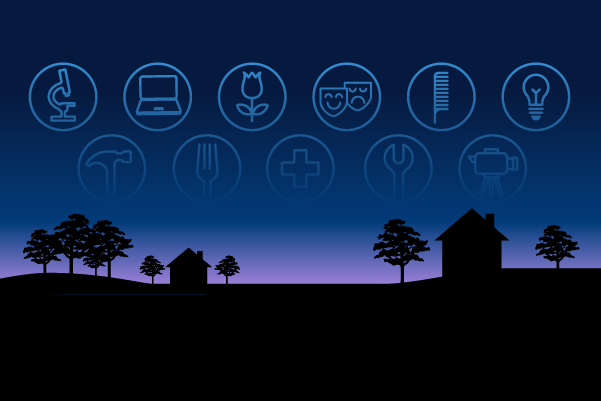 PWCS families are invited to join us for Prince William County's School Specialty Program Information Nights. Virtually, families can investigate the variety of programs available to middle school and high school students.
The Specialty Program Information Nights inform students and families about Advanced Academic and Specialty Programs (AASP), as well as Career and Technical Education (CTE) programs available in PWCS. The evening begins with a general session at 7 p.m., followed by breakout sessions for individual programs. All grade-level -appropriate programs will be represented each night. Once you have completed the sign-up, you will receive a reply email with the Zoom link for the main session. The links for the individual sessions will be emailed to you prior to the session date.
For more detailed program information and application details, please visit the AASP and CTE webpages.
Middle School Information Night
Monday, October 26, 2020 at 7 p.m.
Middle School Programs
International Baccalaureate Middle Years Program
Mathematics and Science Program
Same Gender Program
Traditional School
World Language Programs
High School Information Nights
Tuesday, October 27, 2020 at 7 p.m.
Thursday, October 29, 2020 at 7 p.m.
High School Programs
Advanced Academic Specialty Program (AASP) opportunities include:
Advanced Placement Scholars(AP), Biotechnology, Cambridge Programme, Center for Applied Sciences, Interactive and Information Technology (CASIIT), Center for Environmental Sciences (CENS), Center for Fine and Performing Arts (CFPA), Center for International Studies and Language (CISL), International Baccalaureate (IB), Information Technology (IT), Fine and Performing Arts, Governor's School @ Innovation Park, Pathways to Global Citizenship, and Pre-Governor's School.
CTE Transfer opportunities include:
Agriculture, Automotive Technology, Aviation Maintenance, Biomedical Science, Building Trades, Cabinetmaking, Cybersecurity, Electricity, Medical Coding and Billing, Pharmacy Technician, Plumbing, Television Production, and Welding.
CTE Transport opportunities include:
Cosmetology, Culinary Arts, Firefighting, and Practical Nursing.
JROTC
If your school does not offer Junior Reserve Officers' Training Corps (JROTC), you can apply for a school-based transfer through the JROTC webpage.
For more information or assistance, please contact the Specialty Programs Office at 703-791-7400 or the CTE Office at 703-791-7297.