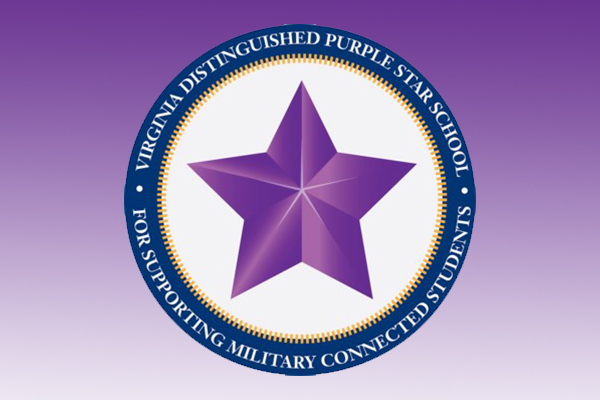 The Purple Star Designation is awarded to military-friendly schools that have demonstrated major commitment to students and families connected to our nation's military. This year, the Virginia Department of Education (VDOE) and the Virginia Council on the Interstate Compact on the Educational Opportunity of Military Children (The Council) recognized four Prince William County Public Schools as 2021 Purple Star schools. The four schools receiving this designation are Ashland and Tyler Elementary Schools, Parkside Middle School and Porter Traditional School. These four schools join a group of schools in PWCS that have previously earned the Purple Star designation.
View the list of PWCS Purple Star schools.
Ashland Elementary, Parkside Middle, and Porter Traditional have the unique distinction of being the first three schools in the Division to receive the award for the second time since the program's inception in Virginia in 2018-19.
Anna Houseworth, principal at Ashland Elementary is proud of everything the school is doing to help ensure military students stay connected to their families, even when deployed, on temporary duty travel, or on a permanent change of station. "Our entire Ashland staff goes above and beyond to ensure our military children and families feel connected and supported. I am proud to serve such a dedicated group of teachers and staff who always go the extra mile to make a positive impact on our children's lives."
This sentiment is echoed by fellow principal, Kaitlyn Engelmeier-Foor on Porter Traditional's accomplishment of receiving the Purple Star designation for the second time. "We are so proud of our military students and families and are committed to providing them with the support and resources they need to have the best educational experience!"
Dan Dunham, military student and family specialist for the VDOE applauded each school for their "continued commitment in supporting military connected students and their families."