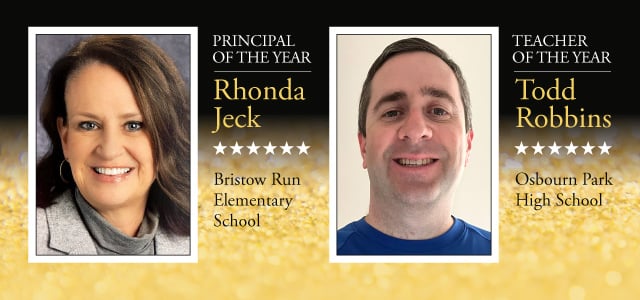 This year, we honored finalists for the Teacher, Principal, New Teacher, Lead Mentor, and Mentor of the year at an awards ceremony on Tuesday, May 24.
PWCS is pleased to announce the winners of the 2021-22 Outstanding Educators Awards.
Principal of the Year, Rhonda Jeck, Bristow Run Elementary School
Teacher of the Year, Todd Robbins, Osbourn Park High School
Also honored were the following educators from the Mentoring and Induction program:
Elementary New Teacher of the Year, Megan Suprise, Yorkshire Elementary School
Secondary New Teacher of the Year, Natalie Hackmann, Gainesville High School
Lead Mentor of the Year

, Kelly Pratte, Belmont Elementary School

Mentor of the Year, Shannon Fletcher, Coles Elementary School
Congratulations to all our winners, finalists, and nominees for being outstanding role models to PWCS students and staff. Your hard work and commitment are recognized and appreciated by all.