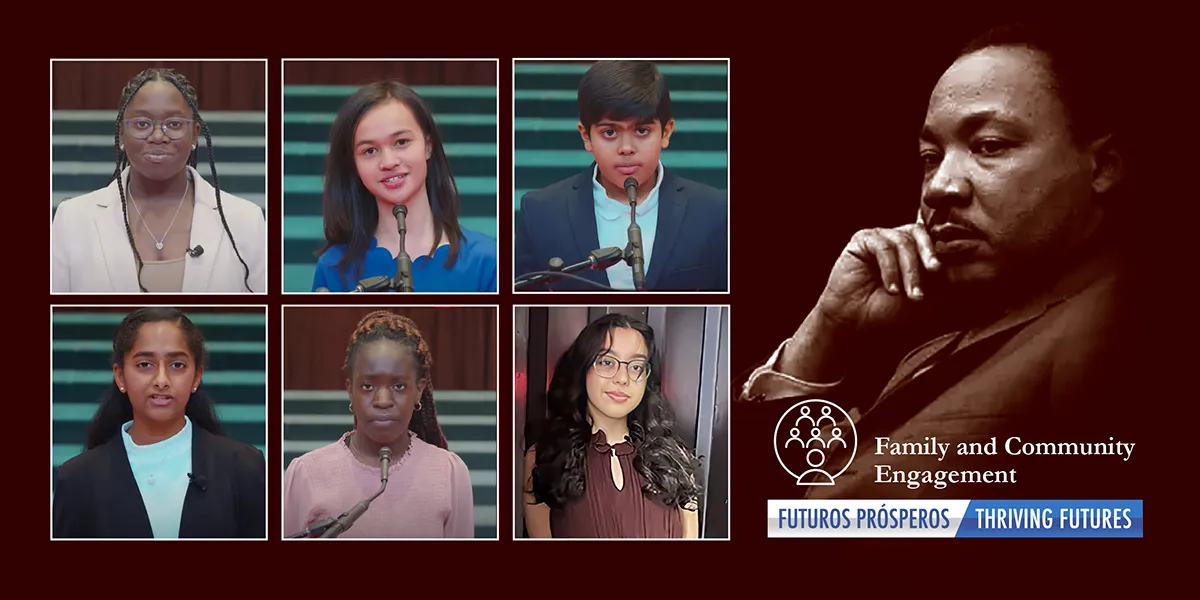 PWCS student talent was on display at the annual Martin Luther King Jr. (MLK) Youth Oratorical Competition and Program, held virtually on January 16, 2023. The event is held each year on the MLK holiday in honor of Dr. Martin Luther King Jr. Sponsored by the Prince William County Alumnae Chapter of Delta Sigma Theta Sorority, Inc. (PWCAC-DST), the student speeches are one component of the celebration, now in its 38th year. The MLK Community Choir, made up of students in grades K-12, added thematic musical selections for the program.
Students study with a coach, often a teacher, and begin early in the year to prepare and practice their speeches in anticipation of presenting in the tradition of the acclaimed oratorical skills of Dr. King. In the virtual format, students present their speeches to a panel of judges in advance of the program and were announced as finalists in December. Community members then watch online on the MLK Day holiday and vote for their favorite orator using a text-to-vote feature.
Congratulations to the following winners of the 2023 MLK Oratorical Program:
Best Before the Audience: Sakshi Gowda, eighth grade, Ronald Wilson Reagan Middle School
Best Before the Judges' High School Winner and Best Before the Audience: Shavonne Davis, ninth grade, Patriot High School
Best Before the Judges' Middle School Winner: Alyssa Godfrey, eighth grade, Benton Middle School
Featured Speaker Award: Arhaan Gautam, sixth grade, Pennington Traditional School
Middle School Judges' Choice Award: Rosalie Bagay, seventh grade, Bull Run Middle School
High School Judges' Choice Award: Ritha Igout, 11th grade, Gainesville High School
View these short clips for a brief glimpse as two of the student winners, Shavonne Davis and Sakshi Gowda, share their passion and imagination.
View the full event on the PWCAC-DST's YouTube Channel, PWCAC DST YouTube Channel (PWCAC-DST-MEDIA).
Now in its 33rd year, the oratorical portion of the program is sponsored by PWCAC DST in affiliation with the Delta Research and Educational Foundation. PWCS School Board member Lillie Jessie (Occoquan District), who is also a sorority member, is the founder of the MLK Youth Oratorical.
Visit the PWCAC DST website to learn more about this program.