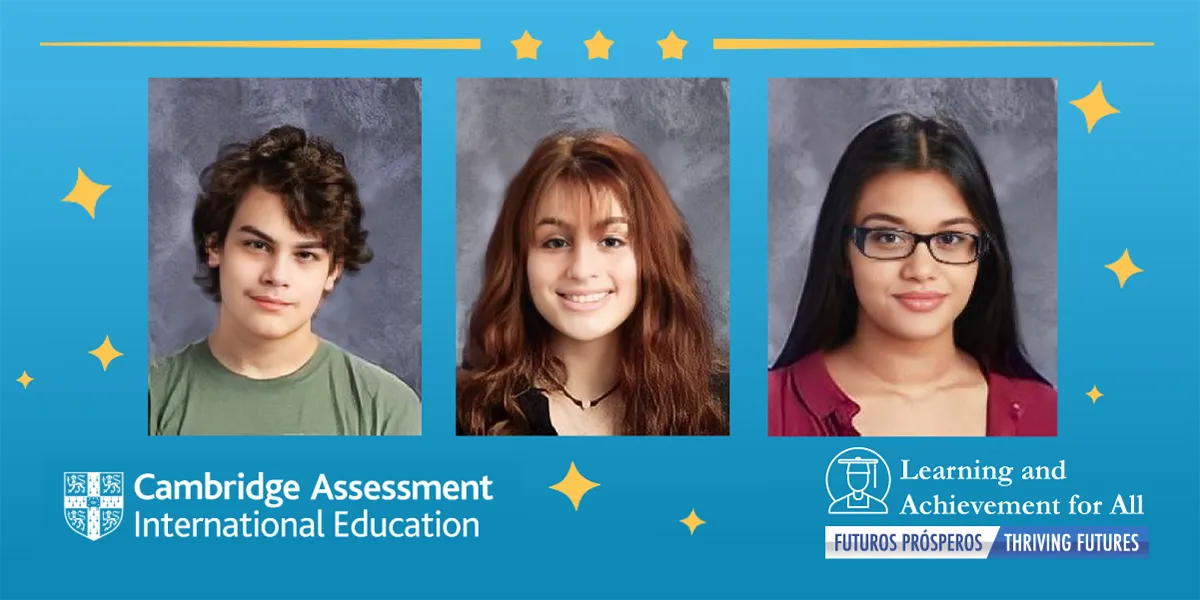 Cambridge Assessment International Education, part of the University of Cambridge, has awarded three prestigious awards to PWCS students for their outstanding performance on the June 2022 examinations.
Brentsville District High School graduate Mackenna Caruso received the Cambridge Scholar Award with Merit and Brentsville District High graduate Grant Vizaniaris and current Potomac High School senior Nabiha Chowdhury received the Cambridge Scholar Award.
These awards recognize the talent, dedication, and commitment of both students and staff.
Students in the Cambridge Programme participate in an innovative international pre-university curriculum and examination system that can be tailored to their interests. Courses are based on an investigative approach to learning with students using initiative and creativity in problem solving.
The external assessments include written examinations, project work, and individual research. Students taking advanced level courses can qualify for an Advanced International Certificate of Education (AICE) diploma.
Mark Cavone, Cambridge International regional director, North America, said, "It is a great pleasure to honor students and teachers at Prince William County Public Schools (PWCS) for their exceptional work in Cambridge courses and examinations. These results are a testament to the impressive talent of students and teachers in PWCS, and it is a delight to celebrate their success. Students from PWCS should be very proud of their hard work this year. I speak for all of us at Cambridge International as I wish them every success in the coming year."
From their press release, Cambridge International is, "A global organization with a 160-year history and part of the University of Cambridge, Cambridge Assessment International Education partners with schools and districts around the world with a shared goal of making education transformation a reality. High schools across the U.S. now utilize the Cambridge Advanced program. This program is part of an internationally benchmarked program that allows students to earn college-level credit in high school."
Applications for the Cambridge Programme are open to rising freshmen, sophomores, and juniors. Learn more about this and other Advanced Academics and Specialty Programs offered by the school division.
---
Estudiantes de PWCS reciben prestigiosos reconocimientos de Cambridge
El programa de Evaluación educativa internacional de Cambridge ha otorgado tres prestigiosos reconocimientos a estudiantes de PWCS por su sobresaliente desempeño en los exámenes de junio de 2022.
Mackenna Caruso, estudiante graduada de la escuela secundaria del distrito de Brentsville, recibió el Premio de Cambridge con mérito a la excelencia académica. Grant Vizaniaris, graduado de la escuela secundaria del distrito de Brentsville, y la estudiante de último año de la escuela secundaria Potomac Nabiha Chowdhury, recibieron el Premio de Cambridge a la excelencia académica.
Estos premios reconocen el talento, la dedicación y el compromiso tanto de los estudiantes como del personal escolar.
Los estudiantes en el programa de Cambridge participan en un innovador programa internacional de estudios preuniversitarios con un sistema de exámenes que puede ajustarse a sus intereses. Los cursos se basan en un enfoque investigativo de aprendizaje, donde el estudiante utiliza su iniciativa y creatividad para resolver problemas.
Las evaluaciones externas incluyen exámenes escritos, proyectos e investigaciones individuales. Los estudiantes que toman cursos de nivel avanzado pueden calificar para obtener el Certificado de Educación Avanzada Internacional (AICE).
Mark Cavone, director regional de Cambridge Internacional en américa del norte, dijo: «Es un gran placer el reconocer a los estudiantes y maestros de las escuelas públicas del Condado de Prince William (PWCS) por su excepcional trabajo en los cursos y exámenes de Cambridge. Estos resultados son un testimonio del impresionante talento de los estudiantes y maestros en PWCS, y es con gran alegría que celebramos sus triunfos. Todos los estudiantes de PWCS estarán muy orgullosos de su arduo trabajo durante este año. De parte de todos nosotros en Cambridge Internacional les deseo mucho éxito en todo lo que se propongan durante este próximo año.»
De acuerdo con su comunicado de prensa, Cambridge Internacional es: «Una organización global con un historial de 160 años que forma parte de la Universidad de Cambridge, el programa de Evaluación educativa internacional de Cambridge establece una alianza con escuelas y distritos alrededor del mundo compartiendo el objetivo de hacer que la transformación educativa sea una realidad. Las escuelas secundarias a lo largo de Estados Unidos utilizan actualmente el programa avanzado de Cambridge. Éste, es parte de un programa con referencias internacionales que le permite a los estudiantes obtener créditos universitarios en la escuela secundaria.
Las solicitudes para el programa Cambridge están abiertas para los estudiantes de primero, segundo y tercero de secundaria. Conozca más sobre este y otros programas académicos avanzados y de especialización que ofrece la división escolar.