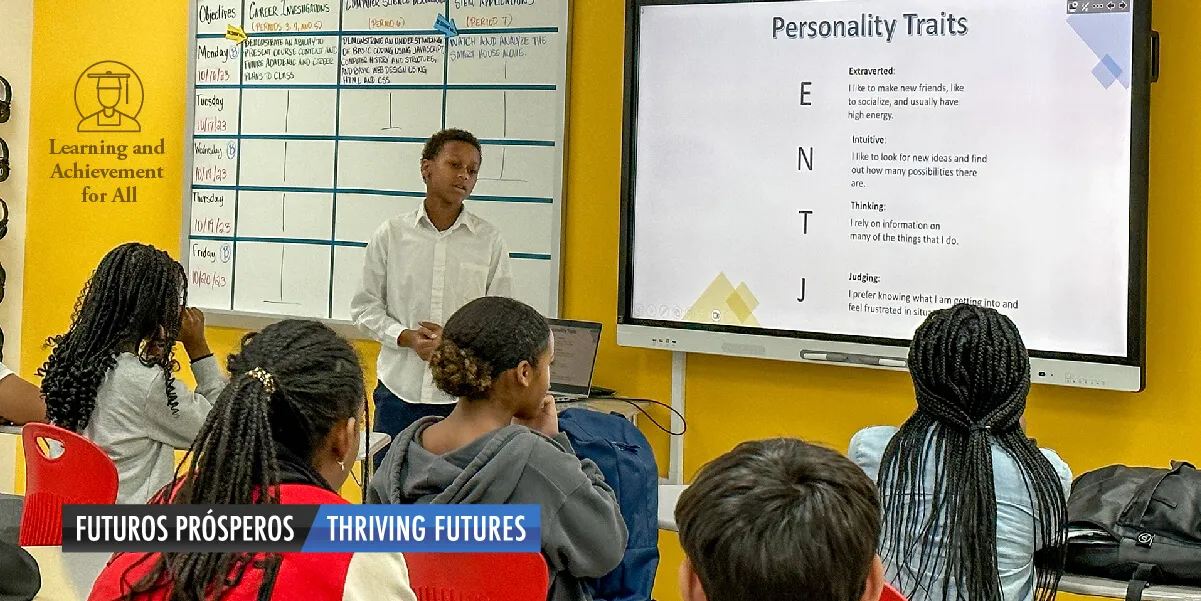 Jasmine Smith, business education teacher at Potomac Shores Middle School, takes pride in helping prepare the students in her Career Investigation classes for high school and beyond. Students in her classes use Naviance, a college and career readiness platform that provides students with self-assessment and college planning tools to learn more about themselves and start to plan their future.
It was presentation day for Aiden Elliott, a student in Smith's class, and although he was nervous, he was also excited. Aiden proudly shared what he learned about himself and his hopes and dreams for the future.
"I learned a lot about my personality type," Aiden shared while reflecting on his project. "My favorite part was talking about my dream career, but it was hard deciding my dream college. This project was kind of hard but will help me know what I need to work for to make my dreams come true."
Self-discovery assessments completed by the students provide insight into their personality type, personal strengths, learning type, and more. The assessment results are used to provide students with suggestions on career pathways that may be fitting for them. Naviance also has tools available for students to research careers and colleges that align with the results received. Using what they learn about themselves and the research they do on their dream career and college, students create a presentation that they share with their classmates.
"I didn't know I have the ability to contain my nervous energy until today," stated Jael Roman after sharing her presentation. "I know what I can use to help me figure out what I need to do when I apply for college and my presentation helped me be more confident and prepared."
Learn more about Naviance, an online tool all Prince William County Public Schools students can use to engage in college and career planning, building a resume, career and personality interest inventories, and setting goals through a game plan. Naviance is free of charge and can also be used to request transcripts and search for scholarships.