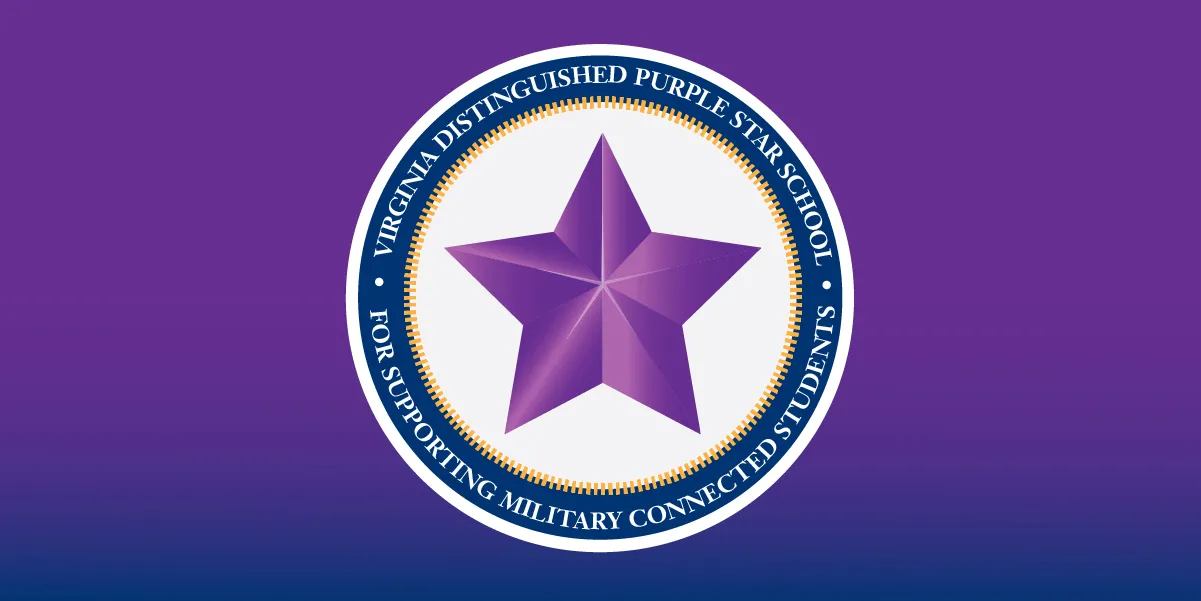 The Virginia Department of Education (VDOE) recognized 19 Prince William County Public Schools (PWCS) as 2023 Purple Star schools, nearly doubling the number of schools that received this recognition in 2022. The Purple Star Designation is awarded to military-friendly schools that have demonstrated a commitment to students and families connected to our nation's military.
The schools that have earned a Purple Star Designation for 2023 are:
Antietam Elementary School 
Bristow Run Elementary School * 
C. D. Hylton High School * 
Covington-Harper Elementary School 
Gainesville Middle School * 
Gravely Elementary School * 
Haymarket Elementary School 
Kyle Wilson Elementary School * 
Lake Ridge Elementary School  
Mary Williams Elementary School * 
Minnieville Elementary School * 
Mountain View Elementary School 
Old Bridge Elementary School * 
Patriot High School 
Penn Elementary School * 
Pennington Traditional School 
Potomac High School 
Potomac View Elementary School 
Rockledge Elementary School 
Those with an asterisk * are receiving their second Purple Star Designation.
With more than 8,000 military-connected students enrolled in PWCS, it is the school division's commitment to recognize and support the distinct educational experiences these students undergo. They are three times more likely to experience frequent relocations compared to their civilian peers, which means continuously adapting to new academic and social environments. Many also deal with the absence of a parent due to deployment, which can cause tremendous stress for them and their families.
The Purple Star Schools program, an initiative adopted in numerous states that sets standards to designate military-friendly schools, is designed to help mitigate the unique academic and social emotional challenges faced by military-connected students and their families.
Schools honored with the Purple Star Designation must complete several required activities, one of which includes educating school staff on issues impacting military-connected students and their families. Schools are also required to have a peer-led transition team in which student leaders are trained on how to show empathy and communicate effectively to support military-connected students new to school.
Other activities include providing points of contact for military families, a dedicated military-connected webpage, and military recognition events. Schools must reapply for the Purple Star Designation every three years.
These required activities help the entire school community to be more cognizant of military culture, resulting in a more welcoming and supportive atmosphere for our military students and their families.
"I am excited about the 18% increase in Purple Star schools in our school division. This increase represents the hard work 39 schools are doing to ease and facilitate positive school transitions for military-connected students and families in our communities. Through this work, we are also honoring our strategic plan commitments centered around family and community engagement," said Dr. Dominique James, military achievement specialist for the school division.
"We are striving to be the premier welcoming school division, leaving a long-lasting positive imprint on the journey of a military family during their time in our area," she added.
Many of the staff members at Minnieville Elementary School are military connected including School Counselor Sarah Basler. "One of the best things that happened since being designated a Purple Star school is that we had a family call and tell us that they were looking into moving into an area where their children would go to Minnieville because we were a Purple Star school," shared Basler. "We really try to make sure that families are taken care of, especially with deployment ramping up again."
The schools recognized in 2023 join a group that have previously earned the Purple Star Designation, bringing the total number in PWCS to 39 schools. View the full list of PWCS Purple Star schools.