Welcome to PWCS Robotics
SeaPerch - Northern Virginia's Regional SeaPerch Challenge 2023
The 2023 Northern Virginia's Regional SeaPerch Challenge was held at PWCS Aquatic Center on Friday, March 10. This is traditionally a high school tournament but this year Potomac Middle School decided that they were up to the challenge. So 75 teams competed for 5 high school spots and 1 middle school spot to the International SeaPerch Challenge at the University of Maryland on Saturday, May 13. The teams competed in three classroom and four pool challenges and were supported by 97 volunteers on this day.
Congratulations to the teams that will represent PWCS at the International SeaPerch Challenge:
HS Division - from Patriot HS
The OctoPirates

Hooked

Puffer Fish

Angry Crabs

Tsunami
MS Division - from Potomac MS
VEX and VEX IQ State Championship 2023
The 2023 VEX State Championship was held on March 3-4, 2023, in Doswell, Virginia. Teams had to qualify at local tournaments to be invited to the State Championship.
Out of the 48 middle school teams invited, 36 were from PWCS (or 63% of the middle school teams). Twenty-five of the 56 high school teams invited were also from PWCS (or 45% of the high school teams).
After two days of very competitive matches, PWCS will be sending 12 teams to the VEX World Championship in Dallas, Texas.
Congratulations to our 2023 VEX World Championship teams:
Elementary School - Ashland.
Middle School - Benton (two teams), Gainesville, Lake Ridge, Parkside (three teams), and Porter Traditional School.
High School - Colgan, Osbourn Park, Patriot, and Woodbridge.
FLL State Championship (December 2022)
On Saturday, December 10, eight PWCS FIRST LEGO League (FLL) teams traveled to the FLL State Championship in Harrisonburg, VA. All teams had to be top of one of the events that they competed in during the November tournament season. PWCS teams had the largest school division-based teams at the FLL State Championship.
Alvey

Cedar Point

Glenkirk

Neabsco
Pattie

Rockledge (2

teams

)

Tyler
Northern Virginia's Regional SeaPerch Challenge (March 2022)
The 2022 Northern Virginia SeaPerch Challenge was held on Friday, March 18 at the Prince Wiliam County Public School Aquatic Center. With generous sponsorship from Micron Technology and Lockheed Martin, the event was attended by 60 teams comprised of 350 students from seven Prince William County Public Schools. Over 100 dedicated volunteers were also in attendance, some of whom have been supporting this annual competition for more than eight years.
Excited students spent the day strategically maneuvering their SeaPerch ROVs through several complicated underwater courses and showcasing their ability to document the Engineering Design Process used to build and modify their ROVs.
The eight top-scoring teams will advance to the International SeaPerch Challenge on June 4 at the University of Maryland where they will compete against over 100 teams from all over the world. Those teams are:
From Patriot High School - Axloltls, Patriot Stingrays, The OctoPirates, Le Fishe, Kappas
From Unity Reed High School - Marlins, Water Striders
Colgan High School - Poseidon
FLL State Championship (November 2021)
On Saturday, December 4, 2021, we were very excited to have nine teams competing at the FIRST LEGO League (FLL) elementary robotics state championship. This is the largest number of PWCS FLL teams to have been invited to the state championship. #PWCSproud
Congratulations to our teams from Buckland Mills, Glenkirk, Loch Lomond, Marshall, Rockledge, Tyler, Victory, and West Gate Elementary Schools!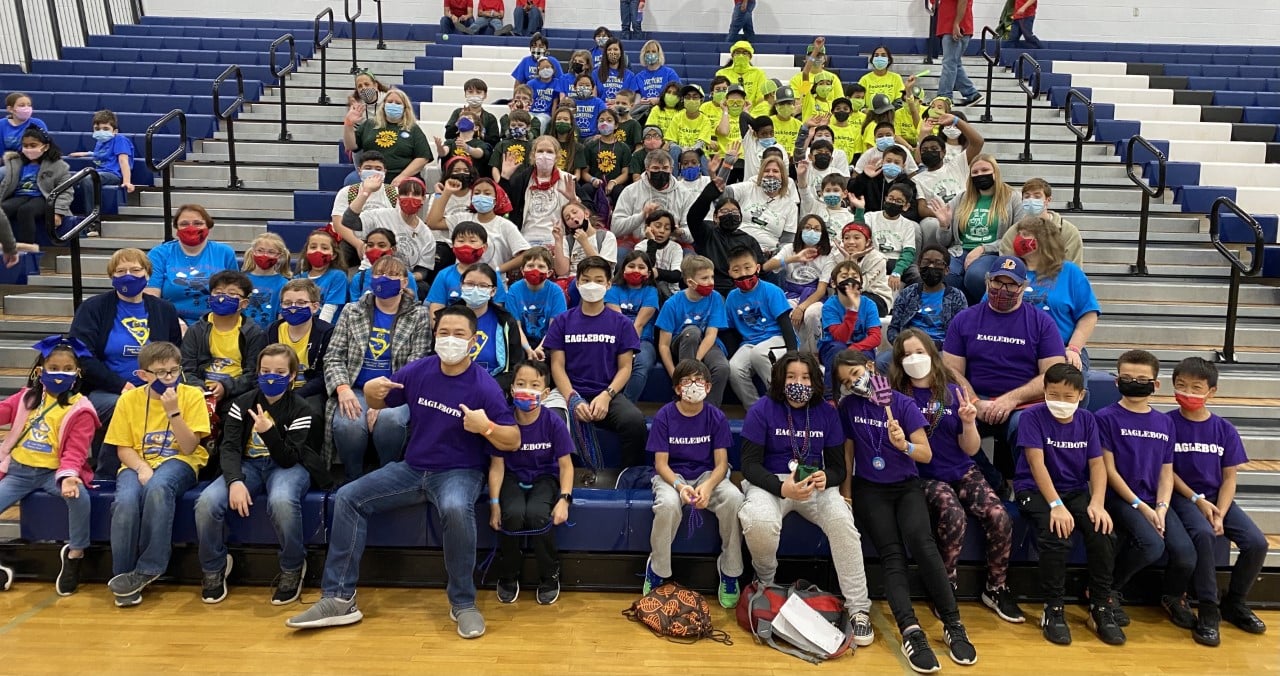 FLL Fun Day 2021 (May 2021)
Thank you to our friends from FIRST Robotics. They pulled together a celebration of our elementary FIRST LEGO League teams for the craziness of the 2020-21 season. This one hour video highlights the many things that the teams could do even when they could not be together. View the video of the FLL Fun Day 2021.
PWCS Robotics Teams (March 2021)
Robotics Was Featured by PWCS Because of How Teams Had a Competitive Season Even Virtually. View the PWCS Robotics Video featured by PWCS.
FLL Regional Tournaments and the FLL State Championship 2020
Congratulations to our schools that represented PWCS in the virtual FLL Regional Tournaments this year. Each team competed via Zoom and were interviewed by a panel of judges. In addition, each team had to submit video of their Innovation Projects and their Robot Game runs. This was not an easy task and we are so very proud of you.
Chris Yung Elementary
Marshall Elementary
Sudley Elementary
Chris Yung Elementary School' team The Spunkies won a spot to the FLL State Championship where they virtually competed with teams from across the Commonwealth of Virginia.
VEX World Championship 2021
This year wasn't the year we wanted but teams still met virtually and swapped parts by leaving them at school or front porches. We sent 46 middle school and 36 high school teams to the VEX State Championship that was hosted right here in PWC! Congratulations to all the teams that were part of this year's robotics season.
2021 World Championship teams competed the week of May 17th.
Middle School Teams:
Benton
Fred Lynn
Gainesville
Parkside (2 teams) - congratulations to Parkside team X who won the Sportsmanship Award at the World Championship.
High School Teams:
Colgan
Forest Park
Woodbridge (2 teams) - congratulations to 1575X who won the Judges Award at the World Championship.
VEX IQ and VEX State Championship 2020
This year's VEX IQ and VEX State Tournaments had the most teams from PWCS ever!! We are so happy that they got to play in this championship event before the pandemic closed our schools and social distancing started.
For this event, there were 46 PWCS teams from 14 different schools -
Elementary Schools: Glenkirk (2 teams), Triangle.
Middle Schools: Benton (3 teams), Beville, Gainesville (5 teams), Lake Ridge (3 teams), Parkside (3 teams), Porter, Potomac (2 teams).
High Schools: Colgan (6 teams), Forest Park (5 teams), Woodbridge (5 teams).
We are so proud of all the teams that were invited to the VEX IQ and VEX Tournament. It was so awesome to see Prince William County Public Schools pride when everyone cheered for everyone. My favorite memory was when Glenkirk Elementary was in the finals and all the high school kids filled the bleachers screaming for them!
After tough battles on the fields, the following PWCS teams won at spot to the VEX World Championship this year. It is sad that they did not get to experience the VEX World Championship but we should be celebrating their successes! We are all PWCS Proud of you all!
Charles J. Colgan High School
20164T - Tigershark
20164X - SharkBots
4303C - Cosmos
Louis A. Benton Middle School
1231D - Dominators
1489D - Ducklings 5.0
12350C - Robo Tuttles
Congratulations to Mr. Dana Powell, from Gainesville Middle School, who won the Coach of the Year at the VEX State Championship!! We already knew he was a rock star...now everyone does!
Final shout out to Colgan High Schools team 20164W - Great White who was also invited to the U.S. Create Open in Councils Bluff, Iowa.