Digital Citizenship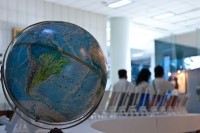 Empowering students, educators and families to use technology respectfully, responsibly and safely in order to communicate, collaborate, create and think critically.
Communication and Social Networking: Communicate respectfully and post only what you are comfortable with everyone seeing
Copyright and Intellectual Property: Do not steal or damage the property of others and give credit to the creator of digital information and images
Cyberbullying: Treat others courteously and report deliberate online harassment
Digital Footprint and Identity: Protect personal information and respect the privacy of others
Information Literacy: Locate, evaluate credibility, and give proper credit to use information effectively
Internet Safety: Make positive connections and report inappropriate contact
Media Literacy: The ability to identify different types of media and understand why the message was created and by whom, what techniques were used to grab attention, the presence of persuasive intent, and credibility.
Tips For Families
Teaching children to become good digital citizens:
Be actively involved and show interest in what your child is doing online.
Support their good choices and help them identify safe, credible websites and other digital content.
Teach them to be good digital citizens by respecting personal information of family, friends and peers.
Think quality, not quantity, and strive for a balance of online and offline activities.
Be cautious about clicking on, downloading, posting and uploading content.
Know the protection features of the websites and software your children are using.
Review privacy settings available on social networking sites and cell phones.
Resources
Student Resources
Information and Resources to help students learn to explore the digital world safely and responsibly:
Grades K-5
Grades 6-12
Parent & Family Resources
Information and resources for families to support student growth as good digital citizens:
Educator Resources
Information and resources to model and teach digital citizenship to students and families: