Social Emotional Learning (SEL) in PWCS
Our Philosophy
In Prince William County Public Schools (PWCS) we believe Social Emotional Learning (SEL) is a fundamental part of education and human development. We are dedicated to creating a school division in which SEL is embedded in our educational practices and providing opportunities to enhance skills among our students, families, and staff. We support the Virginia Department of Education's (VDOE) vision and mission:
"The vision of social emotional learning in Virginia is to maximize the potential of all students and staff to become responsible, caring and reflective members of our diverse society by advancing equity, uplifting student voice, and infusing SEL into every part of the school experience."
What We Do
PWCS implements a divisionwide program providing resources and support to create opportunities for both implicit and explicit social emotional learning. Each school has a designated SEL Coach dedicated to do the following:
Assist in incorporating SEL standards into school practices and curriculum;

Assist in building staff capacity to meet their own and student social and emotional needs;

Guide educators in developing and enhancing existing practices and tools to increase students' fundamental emotional and social competencies; and

Assist in implementation of schoolwide programming to support positive climate and culture for both staff and students.
Porter Traditional provides SEL evening event for families
Porter Traditional School held their first successful Social Emotional Learning (SEL) event for students and families. Twenty different stations provided information and strategies on a variety of coping skills students can use. Some of the activities exhibited were Zones of Regulation check-ins, interaction with therapy dogs, coping skills bingo, mindful coloring, and drum beating in small groups. Parent volunteers managed stations while demonstrating a range of coping skills for students. The night sparked in-depth conversations parents could use with children at home. Porter Traditional is already looking forward to expanding and hosting their 2nd Annual Porter SEL Night next year.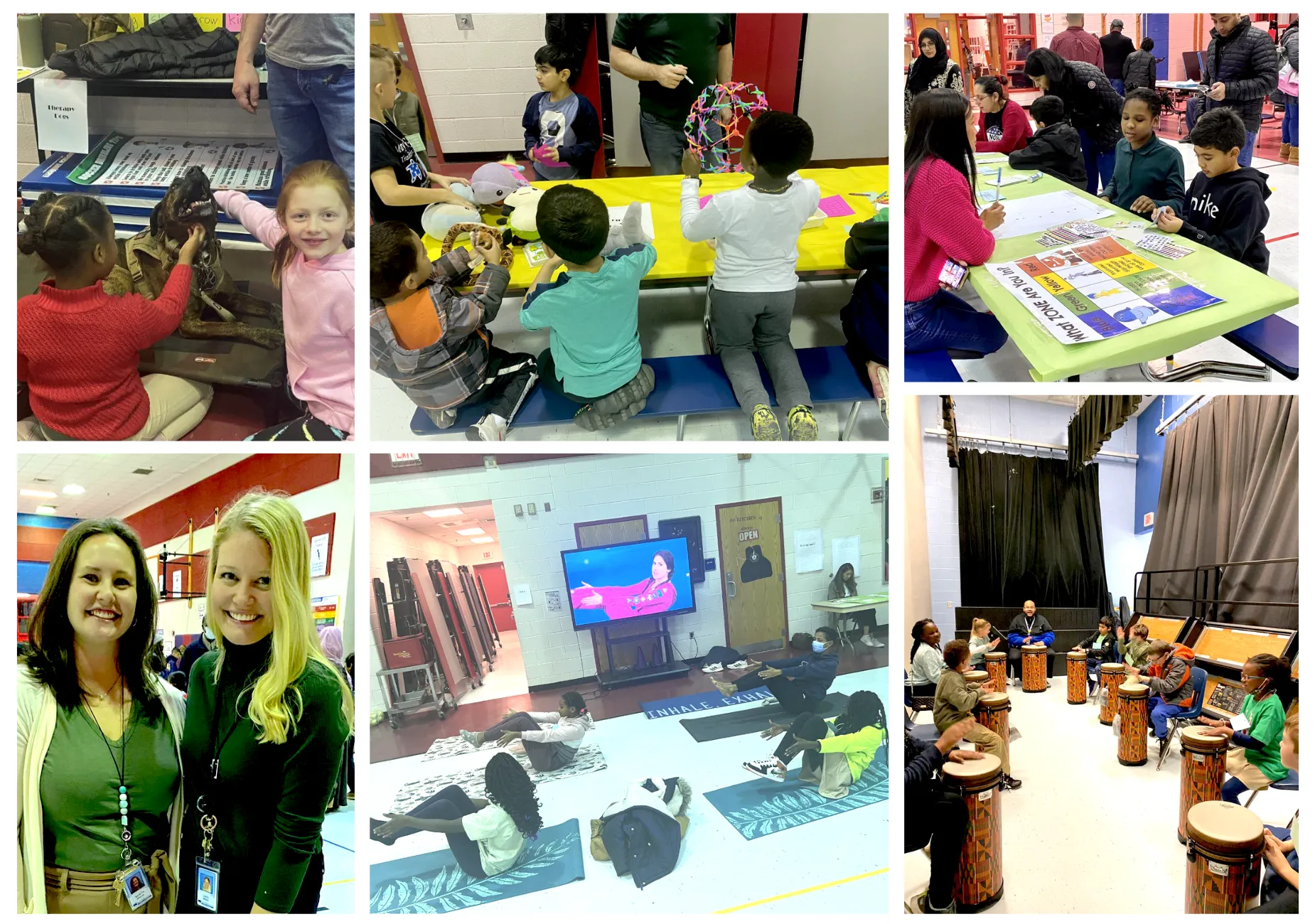 Contact Us
Heather Wines
Supervisor, Social Emotional Learning (SEL)
WinesHL@pwcs.edu
Erin Williams
Administrative Assistant
WilliaEC@pwcs.edu
571-402-3890
Chavonne Thomas
Administrative Coordinator, PWCS Heals
ThomasCD@pwcs.edu
Shannon DiMisa
School Counselor on Special Assignment
PWCS Heals-Student Support Corps
DimisaSL@pwcs.edu