Academic & Career Vision Advising
Academic and career vision meetings take place annually kindergarten through senior year of high school between students and school counselors. This process is designed to provide individual reflection and planning for each student as they plan their next academic year and future career goals. Many facets include components of college and career readiness.
1. Elementary

Awareness of self and others along with personal skills and interests.

Identifying academic strengths, learning styles, and career interests.

2.  Middle

Potentially beginning high school course work in grades 7–8 by taking algebra 1, geometry, and/or world language classes towards high school graduation credit. Any of these courses would begin a student's high school transcript.

3.  High

Students seek electives that feed their curiosity and exploration towards future career goals.

Advanced course work opportunities

Specialty program opportunities.

4.  Launching: Graduation & Beyond

Accessing post-high school pathway and resources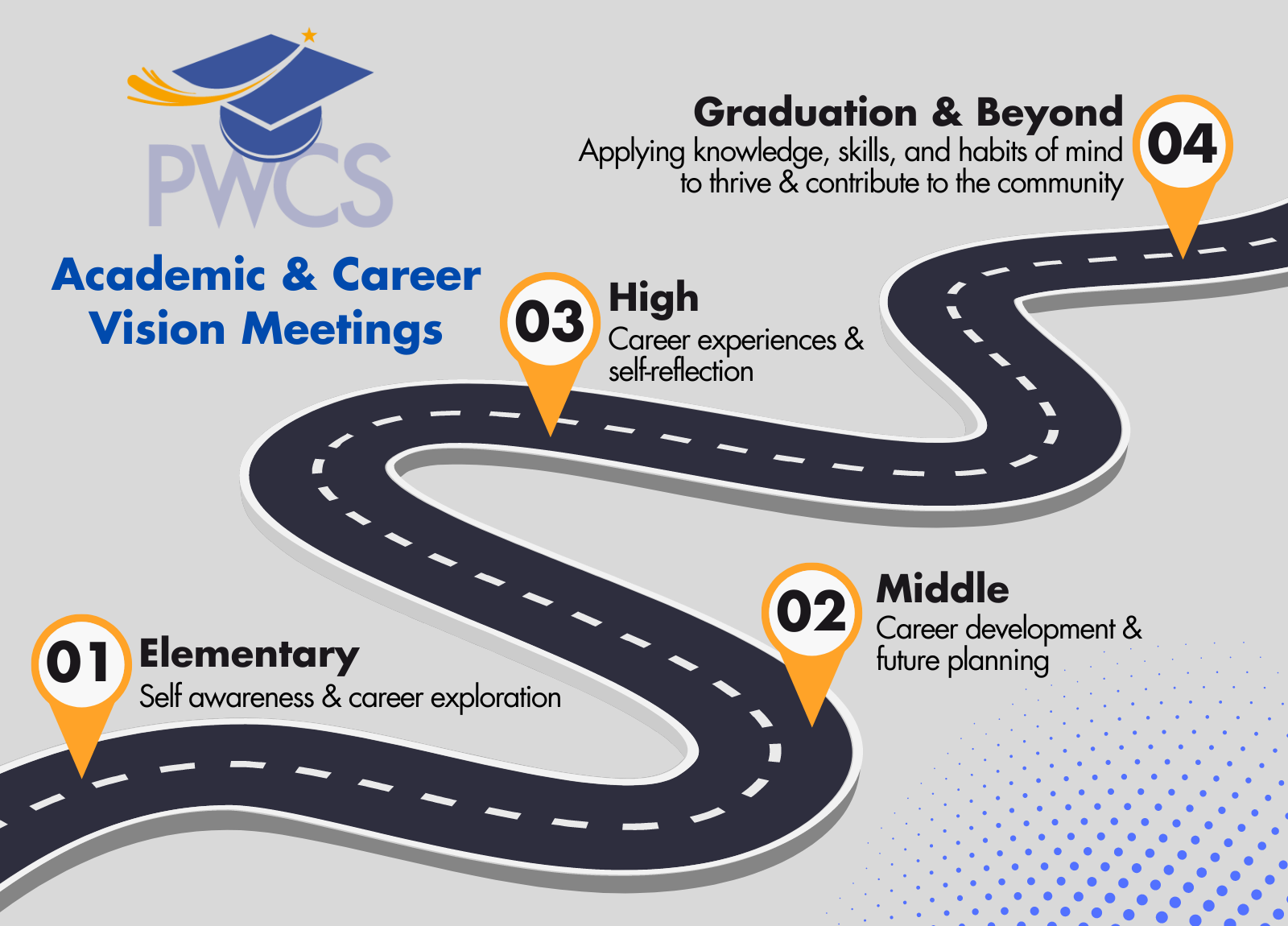 Academic & Career Planning Artifacts Include:
---
Academic Advising Components:
| | |
| --- | --- |
| | Academic Advising Resources: |
Resources for All Grade Levels
Grades K-5 Resources
Grades 6-8 Resources
Grades 9-12 Resources
Academic Advising Timeline–Middle & High School Students: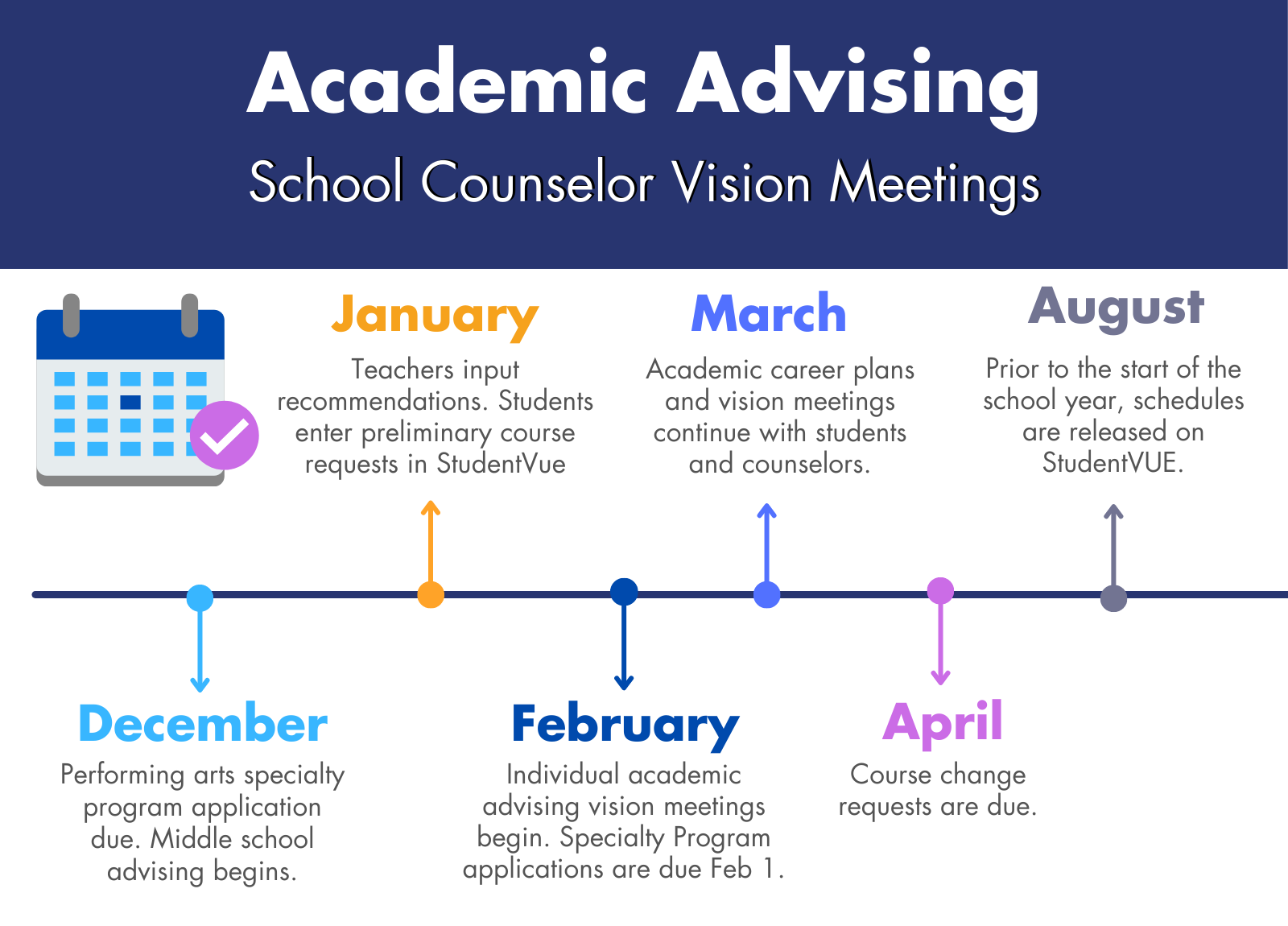 Academic Advising Process
Conversation Starters: How to Start Preparing
How Do I/We start Preparing?
It is very important that students and parents/guardians take an active role in the selection of courses during high school. Having a family conversation about the student's goals/choices before the student meeting with the student's school counselor is key.
Questions to ask?

What am I interested in?

Where do I want to challenge myself?

What was I recommended for and why?

What are my future goals?
For scheduling purposes, each student must select courses totaling seven credits and at least two alternate (backup) electives.

Teachers will revisit course recommendations with students, parents/guardians, and counselors in late April and will make adjustments if necessary.

Course selection verification letters will be sent home to students and parents/guardians in late spring.

The deadline to make course selection changes is set by each high school. This allows administrators to prepare enrollment counts for budget/hiring for the next school year. Classes may be closed/canceled throughout the process due to budget, staffing, and/or low interest.
Review Transfer Program Agreements & College Credit
Review Transfer Program Agreements & College Credit
Review the following:
How to have college credits evaluated at the college level:
Once students have made a decision a decision on where they will attend, accepted the institution's offer, and acquired a student ID number:

Dual Enrollment (DE): Student requests Northern Virginia Community Collegeto send transcript to accepted college for evaluation.
Advanced Placement (AP): Request College Board send an official AP score report to the college to receive college credit or placement.

Students may send scores for free to one recipient every year they take AP exams and any additional scores for a fee.

College credit varies by institution and can be researched on their website, typically found on the school registrar site
Frequently Asked Questions
Frequently Asked Questions
Can I take any class I want?
Refer to the PWCS Course Catalog and talk with your counselor and teachers to find out about course requirements, prerequisites, and sequencing. You need to comply with the course prerequisites specified in the PWCS High School Course Catalog. (Example: English 9 must be completed before English 10.)

Note: Some AP and advanced classes have summer reading or assignments.
How many classes must I choose?
Student must choose courses totaling seven credits and provide two alternate (backup) electives. If your requested course(s) are not available, alternative course(s) will be inserted into your schedule.

To maintain eligibility for sports and VHSL-sanctioned activities, students must take and pass a minimum of five courses for credit and two of the five passing grades must be "C" or higher.

Courses previously passed and being retaken for a higher grade do not count towards eligibility. Classes previously failed and are being retaken do count towards eligibility.

Rising seniors requesting a reduced course load (early release/late arrival) must obtain the necessary paperwork from the school counselor. Students must select seven courses and seven classes and at least two alternates during academic advising and course selections will be adjusted if the request for a reduced schedule is approved.
Can I change my schedule in the summer or next year?
Each high school sets their own schoolwide schedule change procedures and guidelines. Students must comply with the schedule change process established at their school. Read more regarding schedule changes.

Teaching schedules for each school are developed based on graduation requirements, course requests, and staffing. Budget and conflicts within individual schedules could impact a course available. Students are encouraged to prepare and have meaningful conversations with teachers, families, and counselors in the spring.

If a requested course is not offered or conflicts with a course that is required for graduation, one of the student's course alternates will be used.
When are student schedules released?
PWCS typically releases student schedules via ParentVUE and StudentVUE the Wednesday before the first day of school. Parents/guardians are encouraged to have ParentVUE accounts set up prior to that time. This is an excellent way to monitor student grades, attendance, and other information from PWCS.